There are more than a dozen locations downtown where new bicycle racks could be placed, City Manager Mike Wildgen said Friday.
"There's places for more racks," he said. "But there aren't enough, if you want to go in someplace and see your bike the entire time, to have a rack in front of every store."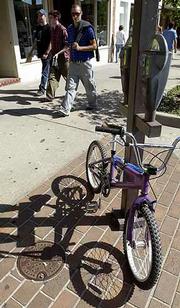 Now Lawrence city commissioners must decide whether to take advantage of the potential to add to the 22 racks already in place. They'll discuss downtown bicycle parking at their Tuesday night meeting.
"I think there should be more," Commissioner David Dunfield said Friday. "If parking bikes on the (parking) meter posts is not acceptable, then we need more racks downtown."
Bicyclists have recently complained about city-issued warnings that their bikes could be confiscated if they continue to lock their bicycles to downtown parking meters. City ordinances don't specifically prohibit the action, but they do outlaw parking a bike in such a way as to obstruct pedestrian or vehicle traffic.
"I would say outlawing parking-meter parking would be OK only if they would put in radically more bike racks," said Shannon Baxter, who often locks her bicycle to a meter in front of the downtown book store where she works.
But Dunfield isn't so sure meter parking is a problem. He cited pictures city staffers took of downtown bike parking to illustrate the issue to commissioners.
"Some of the bicycles they showed parked against meter posts looked perfectly fine to me," he said. "It didn't look like they were blocking anything."
Dawn Stender, a downtown employee whose letter to Dunfield helped push the issue on to the commission agenda, agreed.
"I think there should be new racks, but I don't see what the big deal is about parking with meters," she said. "If you put in new racks, it'll cost money."
Wildgen said Friday he didn't know the cost of adding new racks.
Most agree, however, that chaining bicycles to trees and in city planters is a bad thing. Wildgen is recommending commissioners clarify the city ordinance to outlaw such parking.
"We feel using trees and planters for bike parking is damaging to the trees, ground cover and any flowers that may be planted there," Fred DeVictor, the city's Parks and Recreation director, wrote in a memo to Wildgen.
The commission meets at 6:35 p.m. Tuesday in City Hall, Sixth and Massachusetts streets.
Copyright 2017 The Lawrence Journal-World. All rights reserved. This material may not be published, broadcast, rewritten or redistributed. We strive to uphold our values for every story published.