A year ago at this time one Kansas football assistant was a head coach, one was working at Arizona State and one, well
"I was playing golf a lot," quipped assistant head coach/defensive coordinator Tom Hayes, who was unemployed, "and watching my daughter play volleyball."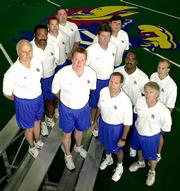 Change is a hot topic around KU these days, and nowhere are changes more apparent than with the coaching staff. Since the Jayhawks' 38-17 season-ending loss at Iowa State 286 days ago, coach Terry Allen has had to hire six new assistants, promote another to a full-time position and reassign the other two.
Heading into tonight's season-opener against Southwest Missouri State, not one KU aide holds the same job he had last season including Allen, who took over as offensive coordinator during the offseason, but since has hired a co-offensive coordinator.
Hayes was the secondary coach with the Washington Redskins from 1995-99 before Dan Snyder bought the team and made wholesale changes.
"In '99 they let everybody go," Hayes said. "We'd won the division and got two games into the playoffs and the defensive coaches were let go. That's just the way it goes. That's the game we live in. No coach ever worries about it. Coaches are hired to be fired. That's just part of it."
Rip Scherer
Being fired is a part of the game that co-offensive coordinator/quarterbacks coach Rip Scherer knows something about.
After he was dismissed by Memphis amid controversy last November, Scherer was hired by Allen over the summer following an extensive buyout negotiation. Last August Scherer never imagined he would end up in Lawrence, while his family including son Scott, who's a quarterback for the Tigers stayed behind in Memphis.
"I was going into my sixth year at Memphis," said Scherer, whose squad was 4-7 last season. "There was a lot of expectations and we came up three points short in four games and it made a difference in my life, but I don't look back.
"Someone once told me that the reason your windshield is a lot bigger than your rear-view mirror is because what lies ahead is a lot more important than what lies behind."
Johnny Barr
KU linebackers coach Johnny Barr can't help but look back and reflect on where he's been.
Barr, who was the linebackers coach at Arizona State last year, was hired in the spring to replace former KU aide Mark Farley, now head coach at Northern Iowa. A year ago, instead of enduring the dog days of summer, Barr was savoring the Sun Devils' football practices at Camp Tontozona in the mountains of Arizona.
"It's owned by Arizona State," Barr said. "Frank Kush started it several years ago, taking the team up there. Beautiful, beautiful setting, real big mountains, bears come down at night. It's really a beautiful setting.
"It's just strictly football. It's probably as close as college can get to a pro setting. I think a lot of colleges still do that. I don't know how much they do it in the Big 12, but in the Pac-10 a lot of them do."
Travis Jones
Appalachian State's linebackers coach/recruiting coordinator at the time, Travis Jones also has fond memories of the weather from a year ago.
"This time last year it was about 75 degrees at noon - that was as hot as it got," he recalled.
Jones, a defensive tackle at Georgia from 1991-94, was hired by Allen during the offseason. The irony of Jones' situation last August is how it's tied to his current co-workers.
"I was preparing to play against Wake Forest," Jones said. "Their last game before playing us was against Johnny Barr in a bowl game. As a matter of fact, we watched the bowl game. It was one of those Hawaii games out there and we watched the game preparing for them. We watched to see what they did.
"Of course, they lost so we didn't do some of the things they did," he quipped.
Sam Pittman
KU offensive line coach Sam Pittman knows about relocating all too well. His current stint with the Jayhawks marks his fourth school in as many years, all in the same capacity. He went from being offensive line coach at OU in 1998, to Western Michigan in '99 and then Missouri last season.
"Some of them were my choice," Pittman said of the multiple moves. "If you feel like you're making a professional move that benefits you and your family, then you make that move. It was my choice to move from Western to Missouri. I enjoyed Western a lot, but it was maybe a chance to move up some professionally."
Clarence James
After spending seven seasons at Oklahoma, Clarence James was the assistant head coach at Allen (Texas) High last season. He took the post because it was convenient for his wife, Archietta, and close to his daughter, Iman, who lived in Dallas.
"I wanted to get back into college ball. It just worked out that there was a need for a coach," James said of his move to KU. "That was one of the things I missed about it, was the excitement of college football. It wasn't the same challenge."
Clint Bowen
At the beginning of last season, Clint Bowen didn't even have a job well, a full-time job, anyway.
Bowen, who played for both Lawrence High and KU, was the assistant director of football operations last year. He had also spent four years as a graduate assistant at KU and Minnesota before being named the Jayhawks' tight ends/special teams coach during the offseason.
"It's unbelievable," Bowen said of his situation. "Coach could not have done a better job putting a staff together, and that does not include me. That includes other guys that he brought in, the coordinators and other position coaches. They bring so much to the table. Everything we do now, you do it correct and you've got to know how to do it. The players, I'm sure, are responding to it.
"The staff right now is as good as you could ever imagine a staff being, in my opinion."
Tom Burke and Jay Johnson
Although they are the lone remaining full-time assistants from the 2000 season, even Tom Burke and Jay Johnson have been through some changes. Burke was shifted from the secondary to defensive ends, while Johnson has swapped quarterbacks for running backs.
"I think always at the beginning of a new season it's optimistic," Johnson said of last year. "When I look back and compare, I don't know if the enthusiasm was quite as genuine as we've seen this year. We've really taken a different approach which I think has changed some of those things for the better so to speak."
While it certainly has been difficult seeing friends and colleagues move on, Johnson feels it's for the best.
"It's been good," Johnson said of the changes. "Obviously a lot of the staff that was here prior I learned a lot of things from and a lot of the I played for when I played in college and had a ton of success. They're a lot of good football coaches, but you know things do happen and things do change.
"I'm very pleased to have the opportunity to work with the new coaches that coach Allen has brought in. I give him a great deal of credit for the staff that he's been able to put together."
Copyright 2018 The Lawrence Journal-World. All rights reserved. This material may not be published, broadcast, rewritten or redistributed. We strive to uphold our values for every story published.