When Tom Mersmann started riding in the MS 150 Bike Tour 10 years ago, helping a good cause was only part of the reason.
"Originally, the first time we did this, it sounded like a fun thing to do and a challenge," he said. "I didn't know anything about (multiple sclerosis) at all. It was just a bike ride."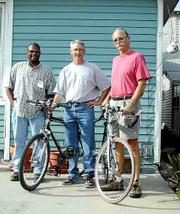 During that time, he's learned more about the disease. This year he'll lead a team of co-workers from Astaris riding in memory of a former colleague and MS 150 participant who died in the last year.
Multiple sclerosis is a chronic disease that attacks the central nervous system, causing symptoms ranging from tingling and numbness to paralysis and blindness. About 300,000 Americans have MS.
The MS 150 Bike Tour raises money to study the disease's causes and potential cures. Approximately 400 bicyclists will start at sunrise Sept. 15 from Washburn Rural High School in Topeka and end the next day in Perry, covering 150 miles in that time.
Tour organizers also provide riders the opportunity to meet persons living with multiple sclerosis. That's given Mersmann a new perspective on the tour.
"I've become much more aware," he said. "We heard the speakers who talked about living with MS, and they were very powerful."
Mersmann is leading the Astaris team, known as the Full Moon Cruisers. This year, they're riding in memory of Steve Cantrell, who died from a heart attack in February.
Cantrell was an avid MS 150 rider, Mersmann said.
"He was looking forward to 10 consecutive years. I think he was the only one who rode in it every year after he started," he said. "He was enthusiastic about the ride. We'll be remembering him as we do it."
The Full Moon Cruisers will have 14 members this year up from seven in 2000. They credit Cantrell's memory and enthusiasm for the event with spurring greater involvement.
"I remember (Cantrell) giving me a little extra push to get into it," said Cheldon Coleman, another Astaris employee on the team. "I think a lot of people are using that as motivation."
Team member Larry Saathoff agreed.
"I was teetering on the edge, over to do or not to do," he said. Cantrell's memory "pushed me over the edge."
Whitney Zeiler, communications coordinator for the Mid America Chapter of the National Multiple Sclerosis Society, said riders are critical to the organization's fund-raising. Each must raise $150 to participate; the chapter hopes to raise $1.27 million from the Topeka ride and two others in the region.
Of that, Zeiler said, 40 percent goes to national research efforts. The rest stays in the area for educational projects.
"The MS 150 is the largest fund-raising event we have each year," she said. "Without the effort of the cyclists, none of that could take place."
Members of the Full Moon Cruisers are happy to help. They also enjoy the opportunity to ride with each other.
"You put eight hours in on a bicycle with a handful of people, you get to know them pretty good," Saathoff said.
Copyright 2018 The Lawrence Journal-World. All rights reserved. This material may not be published, broadcast, rewritten or redistributed. We strive to uphold our values for every story published.