A typical day for Moussa Elbayoumy is a mix of parenting, work and prayers.
In other words, Elbayoumy said, his life as a Muslim isn't that different from those of most working parents in Lawrence. Muslims here, he said, are as similar and different to one another and the community as anybody else.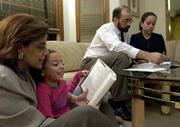 "The Muslim community in Lawrence is as diverse a group as any," said Elbayoumy, director of cardiology for St. Francis Hospital in Topeka. "The look will vary from your blond, blue-eyed neighbor who chose to be Muslim to a diverse group of people from all over the world."
Elbayoumy is one of about 300 people who regularly attend prayers at the Lawrence Islamic Center, a community that encompasses foreign-born Kansas University students as well as longtime local residents. As many as 600 people show up for special services, Elbayoumy said; he suspects as many as 1,500 people with some Muslim background live here.
No one has official demographics for the city's Muslims. Elbayoumy said as many as 80 percent of Lawrence's Muslims are KU students, like Fouzia Haq. A junior majoring in psychology, she was raised in New York and graduated from high school in Kansas City, Mo. Haq said she doesn't identify with the Muslim women oppressed under Afghanistan's Taliban regime. She wears a head covering, she said, because she chooses to; her mother and aunts don't.
"A lot of people have a hard time distinguishing between what's a religion and what's a culture," Haq said. "I roll with a pretty diverse bunch.
"I think if you asked someone to describe me being Muslim does establish who you are," she said. "But I have a personality, too. I'm not just the Muslim girl ... I'm American. I'm crying because the Yankees are down 0-2."
Many of the students and sometimes, the families they bring with them hail from African and Asian countries. Mansour Al-Turki is a junior in electrical engineering from Saudi Arabia. Aramco, his employer, chose for him to attend KU. Some of his colleagues, Al-Turki said, were placed in smaller towns that don't have Muslim populations.
"I'm pleased my company sent me here," he said. "It's a great advantage to me."
Being able to share community with other Muslims is one benefit of being here, he said, as is the open-mindedness of Lawrence. There has been little backlash since Sept. 11, Al-Turki and Elbayoumy both said.
"I'm very pleased to see the very supportive attitude of the people of Lawrence. I think they are educated," Al-Turki said. "It's a very good thing to see people don't have this generalized idea of Muslims."
The details, Elbayoumy said, reveal little that is surprising.
"We, as Muslims, from a religious point of view, there's no difference between us and the other monotheistic traditions," he said. "We're an extension of that ... it's the Judeo-Christian-Islamic tradition.
"We feel the pains of American society, just like anybody else, and we share the joys, just like anybody else."
Copyright 2018 The Lawrence Journal-World. All rights reserved. This material may not be published, broadcast, rewritten or redistributed. We strive to uphold our values for every story published.