Los Angeles — Aliens and ghosts dominated the box office over the weekend as the mental-ward drama "K-Pax," starring Jeff Bridges and Kevin Spacey as a possible visitor from space, took in $17.5 million to debut as the No. 1 film.
A close second was the Halloween horror remake "13 Ghosts," which grossed $15.7 million, according to studio estimates Sunday. Last weekend's top film, "From Hell," slipped to third place with $6.1 million.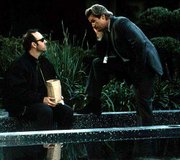 Another ghost tale, rapper Snoop Dogg's "Bones," had a modest opening of $2.95 million, debuting at No. 9.
"On the Line," a romantic comedy featuring Lance Bass and Joey Fatone of 'N Sync, opened weakly in 11th place with $2.3 million.
Kevin Kline's "Life As a House," in which he plays a dying architect trying to make amends to his neglected family, opened well in limited release, grossing $294,000 in 29 locations for a strong average of $10,138 a theater.
The bank-robbery comedy "High Heels and Low Lifes," starring Minnie Driver and Mary McCormack, bombed in limited release, taking in just $149,224 at 175 theaters for a dismal $648 average.
Overall, box-office revenues rose slightly. The top 12 films grossed $73.4 million, up 3.4 percent from the same weekend last year.
It was the last quiet weekend at the box office for a while. Big holiday-season films begin hitting next week with "Monsters, Inc.," an animated tale from the makers of the "Toy Story" movies, and the following weekend brings the Farrelly brothers' latest comedy, "Shallow Hal," starring Gwyneth Paltrow and Jack Black.
And the year's most anticipated movie, "Harry Potter and the Sorcerer's Stone," opens a week after that.
Hollywood has had a solid fall so far despite the terrorist attacks, which prompted the industry to shuffle its schedule and postpone movies with terrorism elements. Since the Sept. 11 attacks, movie revenues are up 6 percent to 7 percent from the same period a year ago, said Paul Dergarabedian, president of Exhibitor Relations, which tracks the box office.
"This was a strong post-Labor Day period considering what's been going on in the world," Dergarabedian said. "It tells you people will respond to the movies out there, that they want to escape into a story."
Estimated ticket sales for Friday through Sunday at North American theaters, according to Exhibitor Relations Co. Inc.:
1. "K-Pax," $17.5 million.
2. "13 Ghosts," $15.7 million.
3. "From Hell," $6.1 million.
4. "Riding in Cars With Boys," $6 million.
5. "Training Day," $5.11 million.
6. "Bandits," $5.05 million.
7. "Serendipity," $3.9 million.
8. "The Last Castle," $3.7 million.
9. "Bones," $2.95 million.
10. "Corky Romano," $2.9 million.
Copyright 2018 The Associated Press. All rights reserved. This material may not be published, broadcast, rewritten or redistributed. We strive to uphold our values for every story published.