St. Louis — When the St. Louis Rams scored on a pair of trick plays early in the game, the New Orleans Saints seemed to be in trouble. Apparently, they were merely pacing themselves.
New Orleans came back from an 18-point deficit with the help of four interceptions by Kurt Warner and beat the Rams 34-31 on John Carney's 27-yard field goal with 1 second left Sunday.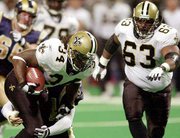 The game-winner was Carney's fifth field goal of the day and gave Warner his first loss at home as a starter after 16 victories.
Sammy Knight had two interceptions for the Saints (4-2), who scored 25 points in the third quarter after trailing 24-6 at halftime. The Rams, who had a total of eight turnovers, had not allowed a point in the third quarter in their first six games.
St. Louis (6-1) is one of only two teams in NFL history to win its first six games in three straight seasons, but each time the Rams have failed to make it seven in a row. They have a bye next weekend, giving them more time to think about the defeat.
"We know we gave it to them," coach Mike Martz said. "I told the players to put it away and move on."
Warner finished 29-of-47 for 385 yards, a touchdown and the four interceptions. His counterpart, Aaron Brooks, went 20-of-31 for 254 yards, three TDs and no interceptions.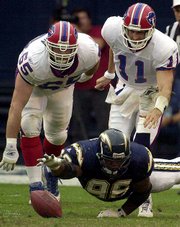 After blowing the big lead, the Rams appeared to be on the verge of overcoming all their mistakes.
Warner led St. Louis on a 12-play, 87-yard drive, capped by an 8-yard touchdown pass to Torry Holt, tying the game at 31 with 7:20 left. On the next series, Aenaes Williams forced Ricky Williams to fumble and Chidi Ahanotu recovered for the Rams at the New Orleans 40.
But Trung Canidate fumbled it back to the Saints, his second of the game. Chris Oldham's 43-yard return to the Rams 36 with four minutes left helped set up Carney's game-winner.
"We should have scored 40 points," said Saints receiver Joe Horn, who caught eight passes for 121 yards and two touchdowns.
Bears 37, 49ers 31, OT
Chicago Almost five minutes after the game was over, the Chicago Bears were still on their feet, cheering. Mike Brown held the ball in the air and pointed at the crowd.
Brown's 33-yard interception return in overtime capped a wild game Sunday and gave Chicago a 37-31 win over the San Francisco 49ers in the shortest extra period in NFL history.
"This," Brown said, "is unbelievable."
Trailing 28-9, the Bears rallied behind rookie David Terrell's two touchdown catches in the fourth quarter and Michigan teammate Anthony Thomas' run for a 2-point conversion to tie the game.
Then, on the first play of overtime, Brown picked off a pass intended for Terrell Owens and returned it for the game-winning score.
That would be the same Terrell Owens who burned the Bears for an NFL-record 20 catches in a game last year.
"I was just trying to make the play, I don't know what happened," Owens said. "I was open, I was trying to make the play."
Instead, it bounced off his shoulder pads and into Brown's hands to give the Bears (5-1) their fifth straight win their longest winning streak since 1991. Overtime lasted only 16 seconds, eclipsing the previous record by one second.
Thomas finished with 127 yards, his second 100-yard game in a row. Shane Matthews, who replaced injured quarterback Jim Miller in the second quarter, was 25-of-31 for 166 yards.
Ravens 18, Jaguars 17
Baltimore Veteran Randall Cunningham and rookie Jason Brookins sparked a fourth-quarter rally that lifted Baltimore.
The Ravens trailed 17-6 before Brookins ran in from the 2 and Cunningham threw a disputed 2-yard touchdown pass to Qadry Ismail to save the Super Bowl champions from dipping below .500 for the first time since 1999.
Starting in place of the injured Elvis Grbac, Cunningham went 23-for-31 for 222 yards.
Bucs 41, Vikings 14
Tampa, Fla. Mike Alstott, starting for an injured Warrick Dunn, ran for 129 yards and three touchdowns, and Brad Johnson threw for 214 yards and two TDs as Tampa Bay (3-3) stopped a two-game losing streak.
The Bucs scored on seven straight possessions while holding Minnesota (3-4) without a first down until Cris Carter's 40-yard reception five minutes into the second half.
Jets 13, Panthers 12
Charlotte, N.C. The Jets, had four turnovers and scored their only touchdown on Chris Hayes' 7-yard return of a blocked punt.
John Hall's second field goal with 4:53 left, won it. Hayes returned a blocked punt by Jamie Henderson in the first quarter for New York (4-3).
Bengals 31, Lions 27
Pontiac, Mich. Corey Dillon scored three touchdowns, including a 96-yard run on the first play, and accounted for 202 yards as Cincinnati (4-3) kept Detroit (0-6) as the NFL's lone winless team.
Dillon ran for 184 yards on 27 carries and caught three passes for 18 yards. His 96-yard jaunt was the longest in team history.
Raiders 20, Eagles 10
Philadelphia Charlie Garner ran for 77 yards and one touchdown, and Oakland's defense held the Eagles to just 11 first downs.
The Raiders (5-1) outgained the Eagles 354 yards to 195.
Donovan McNabb was just 12-of-27 for 133 yards.
Chargers 27, Bills 24
San Diego Doug Flutie scored on a 13-yard dash with 1:10 remaining to lift San Diego.
The game wouldn't be decided until Ed Ellis blocked Jake Arians' 44-yard field goal attempt with 7 seconds left, but it was Flutie's play that kept Buffalo from winning.
After the Bills went ahead 24-20 on rookie Travis Henry's 3-yard run, Ronney Jenkins returned the kickoff 72 yards.
On the first play from scrimmage, Flutie dropped back to pass but the pocket began to collapse. Phil Hansen got a hand on Flutie's leg, but he broke free and scrambled toward the end zone, diving in for the go-ahead score.
Redskins 35, Giants 21
Landover, Md. Washington pulled away in the third quarter when Kevin Lockett, lined up wide left, took a lateral and found Derrius Thompson wide open for a 31-yard TD pass.
Eric Metcalf made a superb against-the-grain cut at midfield on an 85-yard punt return to put the Redskins ahead 14-0 in the first quarter. It was his 10th punt return for a touchdown, extending his NFL record.
Redskins quarterback Tony Banks completed 11 of 19 passes for 190 yards and two touchdowns.
Broncos 31, Patriots 20
Denver New England's Tom Brady, a model of accuracy in four previous starts, threw four fourth-quarter interceptions.
Rod Smith caught six passes for 159 yards and a touchdown, and Denard Walker and Deltha O'Neal each had two interceptions for the Broncos (4-3), who have won 12 of 14 against the Patriots (3-4).
Walker returned his second interception 39 yards for the clinching score with 2:24 remaining.
Denver quarterback Brian Griese threw two interceptions, but he also had touchdown passes to Smith and Dwayne Carswell. Griese finished 19-of-30 for 283 yards.
Dolphins 24, Seahawks 20
Seattle Jay Fiedler passed to James McKnight for a 39-yard touchdown with 6:16 left to lead Miami. Fiedler was intercepted twice by Willie Williams in the opening quarter, but he beat the veteran cornerback on the winning TD pass.
The Dolphins (4-2) regained the lead after the Seahawks (3-3) went ahead 20-17 on a 42-yard field goal by Rian Lindell in the final period.
The defense had to overcome the Dolphins' fourth turnover of the game, when McKnight fumbled after catching a pass near the sideline, and the Seahawks' Reggie Tongue returned the ball 21 yards to the Miami 23 with 3:34 left. But Seattle was stopped at the 10 and Lindell missed a 28-yard field goal with 1:56 left.
Cowboys 17, Cardinals 3
Irving, Texas Dallas forced Jake Plummer into a series of mistakes, including an interception that Dexter Coakley returned 10 yards for a touchdown.
The Cowboys (2-4) have a two-game winning streak for the first time since opening the 1999 season with three straight. Arizona (2-4) lost its 12th straight regular-season game at Texas Stadium.
Copyright 2018 The Associated Press. All rights reserved. This material may not be published, broadcast, rewritten or redistributed. We strive to uphold our values for every story published.