INDEPENDENCE, MO. — When Ray Ettinger began knitting a 7-inch wide royal blue scarf in 1995, he knew it was going to be a long one. But he never envisioned it being 3,523 feet long.
"I wanted to do something unique that no one else had done," said Ettinger, who has been knitting since he was 10.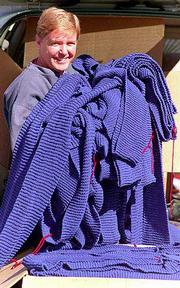 And the retired Independence educator accomplished what he set out to do. His 75-pound scarf, made from one continuous thread, has been accepted for inclusion in an upcoming edition of the "Guinness Book of World Records" for the world's longest continuous scarf done by one person.
Ettinger, who taught in the Independence School District 31 years before retiring at the end of the 2000-01 school year, says he is proud of his achievement that involved "an awful lot of work."
"It was five years of work for one line in the Guinness Book, but it was a lot of fun and I accomplished the goal I set for myself," said Ettinger, who taught math and drama at William Chrisman High School for 25 years.
Getting his name in the "Guinness Book of World Records" never entered his mind, he says, until challenged by a friend to do so. Ettinger began knitting.
Five years and 158 skeins of yarn later, he stopped knitting last October so he could measure the scarf and send the results to Guinness.
"I was completely surprised at its length," he said, after the scarf was stretched out last spring alongside Missouri 78 on the Lake City flats and measured with a police laser gun.
Witnessing the measurement were two Independence police officers and three William Chrisman students, who helped their teacher lay out the long ribbon of yarn and then pick it up. Amazed at its length, Ettinger says he felt "pretty sure" he had the record after learning the previous record holder was an English woman whose scarf measured 571 feet.
That information brought a smile.
"I laughed at myself and knew I had won," he said, adding, "Mine was seven times larger."
After submitting the verification materials to Guinness in June, Ettinger began the long wait. Three months passed, and still no word from Guinness.
Unable to wait any longer, Ettinger e-mailed Guinness the first of September. And on Sept. 12 he received an e-mail saying his achievement had been accepted and that an official Guinness world record certificate would be forthcoming.
Ettinger isn't sure when his name will be entered in the "Guinness Book of World Records," but he says he hopes it will be included in the 2002 edition.
Is his record safe?
"I don't know who would be crazy enough to spend the time to break my record," he said. But if they do, he says, he might consider challenging the record. Of course, he says, "If someone breaks my record, it would depend on how much more I would have to add if I decided to challenge the new record."
Realistically, though, "This is the first and probably the last record for Guinness that I will set."
Copyright 2018 The Associated Press. All rights reserved. This material may not be published, broadcast, rewritten or redistributed. We strive to uphold our values for every story published.