Justice is blind, but she might become a Jayhawk fan.
Four graduates of the Kansas University School of Law will argue before the U.S. Supreme Court in two separate cases during the next month.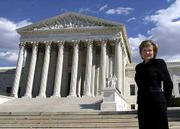 The first case is Tuesday, when Kansas Atty. Gen. Carla Stovall, a 1982 KU Law graduate, and Olathe attorney John Donham, a 1987 graduate, argue Kansas v. Crane, a challenge to the state's "sexual predator" statute.
The second case is Nov. 28, when Stephen McAllister, a 1988 graduate who now is the law school's dean, and Matt Wiltanger, a 1997 graduate and Kansas City, Kan., attorney, argue a case involving a prisoner's right not to incriminate himself.
"For a lawyer, it's as good as it gets," Stovall said of appearing before the Supreme Court. "It's a Super Bowl for lawyers. It's a time of great anxiety, but it's a great honor and privilege."
Case No. 1: sexual predator
Tuesday's case is similar to the 1996 case involving Leroy Hendricks, in which justices said it was legal for the state to commit sexual predators for mental counseling following their prison sentences. But the new case involves only a portion of the law.
"This one is much smaller and more focused," McAllister said. "The first case involved all sorts of constitutional questions. The court had never looked at one of these cases before. This is a much narrower piece."
The case involves Michael Crane, who was convicted in 1993 of exposing himself to a tanning salon employee. He also was found guilty of attempted rape, aggravated sodomy and kidnapping for a second incident involving a video store clerk, but the Kansas Supreme Court overturned those convictions.
Crane claims the state can't civilly commit someone who can control his behavior but chooses not to.
McAllister also is a state solicitor, which means he works on cases involving the state of Kansas after they are heard by the 10th Circuit Court of Appeals.
"Our argument is it's impossible to establish what degree of control, if any, he has," McAllister said. "Psychologists and psychiatrists can't do it. We don't know. It means no one or virtually no one will be incarcerated under the statute."
McAllister and John Campbell, a 1980 KU graduate who now is senior deputy attorney general, will be at the table while Stovall argues the case. McAllister will let Stovall know how much of her 30 minutes remains by writing the time on a legal pad on the table.
As in the 1996 case, McAllister, wrote the brief for the new sexual predator case.
"Steve did the heavy lifting in this case," Stovall said. "If Steve hadn't done the great work on the petition, we wouldn't be at the court."
McAllister said he and Stovall had been talking all week about details of the case. But once Tuesday morning comes, he said he won't have any stress.
"He won't be taking Pepto-Bismol like I will be," Stovall quipped.
Donham did not return calls from the Journal-World this week.
Case No. 2: prisoners' rights
The second Kansas case, on Nov. 28, will match teacher against former student.
Wiltanger took McAllister's Constitutional Law class and was on his moot court team.
McAllister served as a clerk for Justices Byron White and Clarence Thomas from 1989 to 1991 and has already argued four cases before the Supreme Court.
"The bad thing is he's so doggone smart," Wiltanger said of McAllister. "He's in a position to hammer me. It's like a K-State/KU matchup in football, where he's K-State and I'm KU."
The case, McKune v. Lile, tests another Kansas statute which permits authorities to deny a prisoner certain privileges unless the prisoner signs a statement accepting responsibility for the crime for which he was imprisoned.
Wiltanger's client, Robert Lile, was in prison for a 1983 conviction for rape, aggravated kidnapping and aggravated sodomy. Officials at Lansing Correctional Facility wanted him to undergo psychological treatment, but the program required him to sign a confession.
Prisoners who don't participate in the program can have privileges taken away, including time in the library or recreation area or personal televisions.
"If you admit you committed the crime, you can't really get a new trial," Wiltanger said. "It's a Catch-22 for these inmates."
"You're talking about a guy who's in prison anyway," McAllister countered. "You're not extending his length of sentence. He has no legal entitlement to any of these things."
No matter how the case turns out, Wiltanger said the next month would be a feather in the cap for KU law students and graduates.
"I think it says good things about KU law grads in that you have four people from KU who are committed to doing good work on important constitutional issues," he said. "I think KU is just a gem of a law school."
Copyright 2018 The Lawrence Journal-World. All rights reserved. This material may not be published, broadcast, rewritten or redistributed. We strive to uphold our values for every story published.