Sometime in either late July or early August, hackers hit Haskell Indian Nations University's Web site, www.haskell.edu, knocking it offline.
David Fire, an information technology specialist at Haskell, spent weeks rebuilding the site.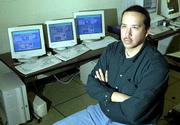 "We got it back up just last week," he said. "It's protected now."
Haskell's ties with the federal government make it a frequent target for hackers, Fire said.
"One day, I have 800 hits on my computer alone," he said. "It's mostly people being mischievous, running 'recipes' to see if they can get into a government computer."
But in the aftermath of last month's terrorist attacks, hackers' abilities to use the Internet to wreak havoc on computer systems are cause for concern.
Recent congressional hearings called attention to the risks posed by a scarce supply of computer security experts and the increasing reliance on the Internet in virtually every facet of the nation's economy.
"People are going to have to be more aware of Internet security," said Gary Minden, professor of electrical engineering and computer science at Kansas University.
Information on how to launch a cyberattack is already available on the Internet, he said.
Minden has developed two Internet security courses that analyze the threats, measure the risks is and review the tools and techniques for ensuring security.
"It comes down to the cost of balancing or preventing a weakness versus 'What am I going to lose?'"
Jerree Catlin, associate director for academic computing at KU, said her office keeps an eye on notices posted by groups and companies concerned with computer security.
"We monitor the various 'list serves' daily to find out what problems are out there and to get the latest security patches," she said.
Catlin declined comment on other steps taken to protect the university's computer systems.
"A lot of the things we do we try not to publicize," she said. "But we are alert to what's going on out there."
So far, Catlin said, KU had not experienced any "disastrous problems."
"Because of our security precautions, we've been fortunate in that regard," she said.
In May 2000, the university took down the e-mail system temporarily to curtail the spread of the "I Love You" virus from other users' machines, but that was not a security issue, she said.
At Haskell, Fire has installed software designed to protect the university's computer system. And students and staff have been asked to turn off their computers before going home.
"Our risk should be minimized greatly," Fire said.
Copyright 2018 The Lawrence Journal-World. All rights reserved. This material may not be published, broadcast, rewritten or redistributed. We strive to uphold our values for every story published.