Overcrowding in two of Douglas County's school districts has officials calling for major new construction.
Next month, voters will decide whether to approve bond issues for a new high school in Eudora and a new elementary building in Baldwin.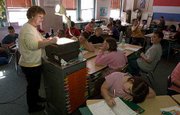 As the county's population has grown, so has the enrollment in both school districts.
"We've grown 43 percent over the last 10 years," Eudora Supt. Marty Kobza said.
Since 1990, he said, enrollment has increased from 839 students to 1,208 students this year, up from 1,181 during the 2000-01 school year. He said the present high school building, which opened in 1995, was built to serve 300 to 350 students but now has 375 students. At least another 25 students are expected next fall, he said. The last bond issue for the $6 million high school was approved in 1992.
"We're over capacity at that building and at capacity at two of four of our other buildings," Kobza said.
About 14 miles south of Eudora, Baldwin Elementary Principal Tom Mundinger understands the problem all too well. He said the elementary school has 450 students this year compared to the ideal size of 300 to 400 students for an elementary building.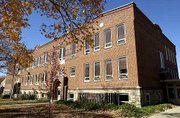 "The concern is we've become so big that you start losing a sense of community," he said. "People don't know each other. Parents don't know other parents. Teachers don't know students in other grade levels."
When that happens, Mundinger said, students start to feel disconnected and that can affect their behavior and participation in school.
That's why another building is needed.
"It's a matter of trying to make the school smaller," he said.
If approved Nov. 6, Baldwin's $7.9 million bond issue would build an elementary school for grades three through five on 92 acres the district owns off U.S. Highway 56 west of Baldwin. The bond also includes additions to and renovations of the middle school and the Vinland and Marion Springs elementary schools. The current Baldwin Elementary would house preschool through second grade.
In 1993, voters in the Baldwin district approved a $8.95 million bond issue to build a new high school, move the middle school into the old high school and make other building additions.
The present bond issue is the first step in a 15-year, long-range facilities plan, which includes a secondary school, performing arts center and other additions and renovations in the district.
In Eudora, a $16 million bond issue before voters would build a new 600-student high school north of the present building on 63 acres, which the district has a contract to purchase. Kobza said the building is designed to allow the commons, library and offices to expand into the courtyard if needed.
"If this community continues to grow, the building could be expanded up to as many as 1,200 students," he said. "It has that capability so we aren't facing the challenges in our facility that we are now."
Eudora resident Kim Schulz said she is excited about the possibility of a new building for her two children. She is chair of the district's volunteer committee, "It's a K-12 solution," that's spreading the word about the bond issue. An informational meeting will be at 7 p.m. Monday at Eudora's city hall.
"It's not just a bond issue to build a high school, but to alleviate overcrowding and a situation in the middle school," she said. "That building is old and needs to be retired This really deals with five school buildings, and we only have four right now."
As part of Eudora's bond issue, the two elementary schools also would be reconfigured, and middle school grades six through eight would move to the high school.
Kobza said it's possible the middle school building may be used by the community or for office space.
"We want to keep the building in use, but it won't be used for educational purposes," he said.
On Nov. 6, polling locations in both school districts will be open from 7 a.m. to 7 p.m.
Copyright 2018 The Lawrence Journal-World. All rights reserved. This material may not be published, broadcast, rewritten or redistributed. We strive to uphold our values for every story published.