Avondale, Ariz. — Jeff Burton found the elusive sweet spot Sunday.
The Roush Racing driver passed gambling Mike Wallace for the lead with 33 laps to go and went on to win the Checker Auto Parts 500 at Phoenix International Raceway for the second consecutive year.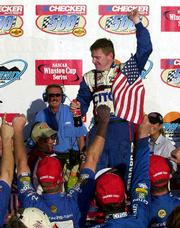 "We've been knocked down all year, but we never quit," said Burton, 11th in the points after coming into the season considered a title contender. "We just had to find the sweet spot.
"That's been our problem all year long, finding that sweet spot, the balance, and making the car do what I want it to do. Luckily, we weren't far off at the beginning today."
Burton said his team kept adjusting the car and making it better throughout the race.
"We're just a microcosm of what America's all about," added Burton, who drove a slow backward victory lap around the one-mile oval holding an American flag out the window of his No. 99 Ford.
Wallace, in only his fourth race with the elite Penske Racing South, jumped into the lead on lap 241 of the 312-lap, 500-kilometer race when crew chief Peter Sospenzo elected to put on only right side tires while the rest of the leaders were changing all four.
Burton came out of the leaders' pit stops, under the fifth of seven caution flags in the race, third, trailing Wallace and Ricky Rudd. Burton quickly moved into second place after the green flag waved and began to stalk Wallace.
Two more caution flags helped Wallace stay out front for a while, but Burton's Taurus went into the lead on lap 279 and pulled away, leaving Wallace to hold off Rudd in their battle for second.
The winner crossed the finish line 2.6 seconds about 30 car-lengths ahead of Wallace on the flat oval. Burton averaged 102.613 mph in the race slowed by 45 laps of caution.
Burton picked up his second win of the season and the 17th of his career.
"Mike was fast but my concern was that he has never won a Cup race and I figured he would do anything to win," Burton said, grinning. "He's auditioning for a job and he did a great job. He ran me hard and clean."
Wallace, who moved into the No. 12 Ford after Jeremy Mayfield was fired, is signed only through the end of the season.
Wallace, the middle of the three racing brothers from St. Louis, said, "I haven't been in a position to win a race all year and I did all I could without putting the cars in jeopardy. Jeff just had a better run and a better car, but to finish second is wonderful."
The best previous finish for Wallace in 102 starts was fifth in the 1994 season-finale in Atlanta.
Rudd's third-place finish, combined with a sixth-place run by Jeff Gordon cut 15 points off the three-time Winston Cup champion's series margin. But Gordon still leads Rudd by a formidable 380 points with four races remaining.
Matt Kenseth, one of Burton's Roush teammates, finished fourth, followed by Tony Stewart.
The majority of the caution flags were brought out by blown right front tires. Goodyear, the exclusive tire supplier for the Winston Cup series, said the problems were caused by a combination of debris on the track, unseasonable temperatures in the high 80s and some teams using less than the recommended 28 pounds of air pressure in the right side tires.
Rusty Wallace, Mike's older brother, was one victim of the tire situation.
The elder Wallace led four times for 91 laps, topped only Burton's five times for 102. Wallace's flat right front tire came when he was trying to hold off Burton for the lead on lap 185.
He did regain the lost lap but wound up a distant 15th.
Burton said it was Rusty that he feared before the flat tire.
"My car actually got a little tight there at the end," Burton said. "It would probably been tough to beat the 2 today if that hadn't happened."
Several cars bounced off the concrete wall during the race but the biggest crash came on lap 255, when Jimmy Spencer bumped the sliding car of rookie Kurt Busch. Before it was over, the cars of Mark Martin, Dave Blaney, Ryan Newman and Michael Waltrip were involved.
Tire trouble: Eight teams and a total of 10 cars had tire troubles in Sunday's race. Most of the problems were blown right front tires, two of which knocked Rusty Wallace and Casey Atwood out of the lead. Kenny Wallace and Kenny Schrader each had two blown tires.
Tony Freund, team leader for advanced engineering for Goodyear, the exclusive tire supplier for NASCAR's Winston Cups series, said it was a heat issue.
Freund pointed out that air temperatures were in the high 80s about 30 degrees higher than for last year's Phoenix race. "It appears that heat is the common denominator," he said.
Roush weekend: Team owner Jack Roush had a dream weekend at the Phoenix track.
His drivers won races on three consecutive days on the one-mile oval.
Greg Biffle drove Roush Fords to victory in both Friday's Craftsman Truck series event and Saturday's Busch Series race before Burton's win here Sunday.
"I never dreamed of winning three straight races here," Roush said.
He could have won four in four days but had no one entered in Thursday's Winston West race.
---
1. (3) Jeff Burton, Ford, 312, $213,491.
2. (24) Mike Wallace, Ford, 312, $160,759.
3. (21) Ricky Rudd, Ford, 312, $135,497.
4. (38) Matt Kenseth, Ford, 312, $97,960.
5. (22) Tony Stewart, Pontiac, 312, $96,675.
6. (14) Jeff Gordon, Chevrolet, 312, $109,052.
7. (42) Robby Gordon, Chevrolet, 312, $94,399.
8. (9) Ricky Craven, Ford, 312, $56,875.
9. (16) Dale Jarrett, Ford, 312, $96,452.
10. (13) Johnny Benson, Pontiac, 312, $67,675.
11. (7) Kenny Wallace, Chevrolet, 312, $78,118.
12. (18) Bobby Labonte, Pontiac, 312, $97,802.
13. (33) Ward Burton, Dodge, 312, $81,610.
14. (1) Casey Atwood , Dodge, 312, $53,075.
15. (4) Rusty Wallace, Ford, 312, $97,590.
16. (19) Buckshot Jones, Dodge, 312, $63,610.
17. (37) Kevin Harvick , Chevrolet, 312, $88,277.
18. (10) Ken Schrader, Pontiac, 312, $60,645.
19. (29) Mark Martin, Ford, 312, $85,176.
20. (23) Terry Labonte, Chevrolet, 312, $80,330.
21. (15) Stacy Compton, Dodge, 312, $50,936.
22. (41) Kurt Busch , Ford, 312, $52,850.
23. (26) Michael Waltrip, Chevrolet, 312, $50,325.
24. (40) Jerry Nadeau, Chevrolet, 312, $51,375.
25. (27) Rick Mast, Ford, 312, $40,950.
26. (12) Brett Bodine, Ford, 312, $47,615.
27. (6) Bill Elliott, Dodge, 312, $67,523.
28. (20) Dave Blaney, Dodge, 312, $42,675.
29. (11) Todd Bodine, Ford, 311, $42,050.
30. (8) Ron Hornaday Jr , Pontiac, 311, $39,925.
31. (32) Jimmy Spencer, Ford, 311, $50,375.
32. (35) Kevin Lepage, Ford, 310, $47,150.
33. (39) Elliott Sadler, Ford, 310, $57,025.
34. (31) Sterling Marlin, Dodge, 309, $46,900.
35. (34) Joe Nemechek, Chevrolet, 301, $67,045.
36. (17) Bobby Hamilton, Chevrolet, 300, $46,650.
37. (30) Dale Earnhardt Jr, Chevrolet, 287, engine failure, $73,248.
38. (43) Bobby Hamilton Jr., Chevrolet, 286, overheating, $38,400.
39. (2) John Andretti, Dodge, 270, crash, $73,802.
40. (25) Ryan Newman, Ford, 253, crash, $38,125.
41. (36) Jason Leffler , Dodge, 252, overheating, $45,975.
42. (5) Robert Pressley, Ford, 239, crash, $45,850.
43. (28) Kyle Petty, Dodge, 65, engine failure, $37,978.
Race Statistics
Average Speed of Race Winner: 102.613 mph.
Time of Race: 3 hours, 2 minutes, 26 seconds.
Margin of Victory: 2.645.
Caution Flags: 7 for 45 laps.
Lead Changes: 15 among 6 drivers.
Lap Leaders: C.Atwood 0; J.Andretti 1-2; C.Atwood 3-64; R.Wallace 65-72; J.Spencer 73; R.Wallace 74-90; J.Burton 91-100; R.Wallace 101-133; J.Burton 134-151; R.Wallace 152-184; C.Atwood 185-193; J.Burton 194; M.Wallace 195-203; J.Burton 204-242; M.Wallace 243-278; J.Burton 279-312.
Top 10 in Points: J.Gordon, 4,662; R.Rudd, 4,282; T.Stewart, 4,198; D.Jarrett, 4,136; S.Marlin, 4,101; R.Wallace, 4,027; D.Earnhardt Jr, 3,977; B.Labonte, 3,926; K.Harvick, 3,918; J.Burton, 3,874.
Copyright 2018 The Associated Press. All rights reserved. This material may not be published, broadcast, rewritten or redistributed. We strive to uphold our values for every story published.