Phoenix — Randy Johnson shut down the New York Yankees with pitching that was close to perfect, and moved his Arizona Diamondbacks a game closer to their first World Series championship.
Johnson picked up where Curt Schilling left off, overpowering the Yankees with a three-hitter for a 4-0 win Sunday night that gave Arizona a two games-to-none lead.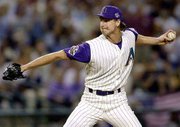 The three-time defending champion Yankees left Arizona reeling, held to just six hits in two games.
Pitching for the first time in the World Series, Johnson put on perhaps his finest performance in fanning 11. And this from a three-time Cy Young winner, a strikeout ace with a no-hitter to his credit.
"He was terrific. He lived up to what he's supposed to be," Yankees manager Joe Torre said. "The axiom has never changed good pitching stops good hitting. And that's what we've seen."
The Diamondbacks had banked on their 1-2 punch of Schilling and Johnson putting them ahead at Bank One Ballpark. Probably no one, however, imagined they would make the Yankees look so overmatched.
Johnson pitched the first complete-game shutout in the Series since Schilling did it in 1993 for Philadelphia. Schilling combined with two relievers on a three-hitter Saturday night in a 9-1 romp.
While Game 1 was a rout, this one was tight until Matt Williams hit a game-breaking, three-run homer in the seventh inning.
"They got me a run early and I had to preserve it," Johnson said.
New York must count on a return to Yankee Stadium to close the gap. The next matchup is in the Yankees' favor Brian Anderson, shaky all season, starts for Arizona against 20-game winner Roger Clemens in Game 3 on Tuesday night.
The Yankees rallied from an 0-2 deficit in the 1996 World Series against the Atlanta Braves and rallied to win in six games, the first of their four championships in the last five years.
"It's no trip to the beach going into Yankee Stadium," Arizona manager Bob Brenly said.
Holding his glove high to shield all but his eyes, Johnson fanned seven of the first nine batters and did not give up a hit until Jorge Posada singled to start the fifth.
His only jam came in the eighth when Shane Spencer and Alfonso Soriano started with singles. But Johnson got Scott Brosius to look at a 97 mph fastball for strike three and escaped when pinch-hitter Luis Sojo grounded into a double play.
Johnson pumped his fist when Sojo, a Yankees' good-luck charm, hit his grounder and Schilling jumped up and down in the dugout.
Brenly asked Johnson if he wanted to finish the ninth, and the answer clearly was yes. Johnson improved to 3-1 in this postseason, having beaten the Braves twice in the NL championship series.
Andy Pettitte, the MVP of the ALCS, matched Johnson for most of the game. He even threw an incredible 18 straight strikes in the early going.
On this night, though, it was going to take a no-hitter to beat Johnson.
Danny Bautista hit an RBI single in the second inning for a 1-0 lead. Then in the seventh, one pitch after Bautista singled sharply off Pettitte's right leg, Williams launched a three-run homer.
Williams became the first player to hit Series homers for three teams, having done it for San Francisco and Cleveland. Earlier this month, Williams was booed at home during the playoffs.
"It doesn't get easier from here, that's for sure," Williams said.
Torre tried to stack his lineup with right-handed hitters, benching Tino Martinez, David Justice and Paul O'Neill.
There was only one benefit, and it was merely a moral victory Randy Velarde, playing because of his .452 career average against Johnson, was the only Yankees' starter who had not struck out by the fifth inning.
The Yankees tried all their tricks against Johnson, hoping to unhinge the 6-foot-10 lefty. They took their time getting into the batter's box, stepped out often and took a lot of pitches.
All it did was delay the inevitable. Because when they needed to hit him, they had absolutely no chance.
Bautista, who started in place of Steve Finley in the NL championship series clincher and came up with a big hit, delivered again.
Reggie Sanders opened the second with an infield single and Bautista hit an RBI double on the next pitch.
Bautista took third on the throw home and, with Torre expecting a low-scoring game, he gambled and moved his infield in with no outs. This move by Torre, unlike those he made in Game 1, worked out well.
Bautista held on Williams' weak tapper, then was easily thrown out at the plate trying to score on Mark Grace's grounder to second baseman Soriano.
Notes: Actor Billy Crystal sat in the commissioner's box for both games. A longtime Yankees' fan, Crystal owns one of their Series championship rings. But in an odd twist, he's also a minority owner of the Diamondbacks. "Talk about having a conflict," Torre joked. Crystal was shown on the scoreboard and, hearing playful booing, covered his ears. ... Anderson was a surprise choice for Game 3. He has not started since Sept. 8, and several Yankees have hit him hard. ... The Yankees said Clemens traveled back to New York before the game to rest. ... Velarde, acquired Aug. 31 from Texas, started nine games at first base this year. He had not played the position in the majors before this season. ... Ray Charles began the night with a moving version of "America the Beautiful." ... Rickey Henderson threw out the ceremonial first pitch. ... Oct. 28 marked the latest date a Series game has been played.
Copyright 2018 The Associated Press. All rights reserved. This material may not be published, broadcast, rewritten or redistributed. We strive to uphold our values for every story published.