Even Bubbles Galore, the clown, volunteered on Make a Difference Day.
With her floppy red shoes and rainbow-striped ensemble, Sharon Dean of Topeka entertained children Saturday at a carnival for special-needs students from Lawrence public schools.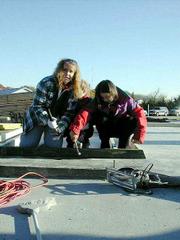 "Some of them were a little scared, but we've had a good time," she said.
The carnival, a collaborative effort between Bert Nash Community Mental Health Center and the school district, provided a friendly environment for the 50 or so children with special needs who stopped by Plymouth Congregational Church, 925 Vt. It also created an opportunity for more than 30 student volunteers to donate their time on the nation's largest day of community service.
"We've been having fun helping out kids with disabilities and getting to know them," said Amanda Elkins, a Central Junior High eighth-grader.
Aside from playing putt-putt and carnival games with children, the volunteers baked cookies for a "Stepping Out Against Breast Cancer" dance Saturday night, and made cards and red, white and blue ribbons for Baldwin nursing home residents.
Hundreds of other volunteers in Lawrence and surrounding communities also were involved in community service projects this weekend.
A 5-kilometer run-walk organized by Kansas University's Center for Community Outreach drew about 70 people who each paid $10 or donated a new, unwrapped toy to participate. Others gave money but didn't make the 9 a.m. trek.
"It was pretty cold outside," said Katie Harpstrite, co-director of the center.
The proceeds will help fund a holiday party in early December for the children at the Boys and Girls Club.
Volunteers from Plymouth Congregational Church and other groups helped raise the walls Saturday morning for the 42nd Habitat for Humanity house.
Angela Roberts, and her two daughters, Kimberly, 10, and Elizabeth, 6, pounded the first nails on their new house at 1709 Atherton Court. Angela Roberts said she was thankful for the Habitat house she will help build for her family.
"I'm so amazed how many people come together and it gets done," she said.
In Lecompton, more than 30 volunteers read stories, poetry, magazines and newspapers donated by the Lawrence Journal-World to children from Perry/Lecompton schools.
"We had an extremely successful morning," said Cathy Howard, event organizer.
Copyright 2018 The Lawrence Journal-World. All rights reserved. This material may not be published, broadcast, rewritten or redistributed. We strive to uphold our values for every story published.