At first, the 11 horses were too timid to step from the trailer onto new territory.
Then they saw the green, prairie grass, fresh water and salt blocks that awaited.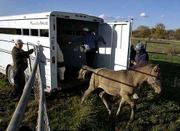 The 5- and 6-month-old foals had just traveled from a farm in Alberta, Canada, to a 25-acre ranch south of Pleasant Grove, owned by R.C. and Betty Pewtress.
The couple had adopted two of the horses through PMU FoalQuest, a volunteer organization that finds homes for so-called Alberta Premarin foals that would otherwise go to slaughter each fall. The remaining nine horses also found homes in the Midwest.
Betty Pewtress said she learned about the group on the Internet while looking for her next horse to train in dressage. She was heartbroken when she learned many of the foals are killed and sold for human consumption in foreign countries.
"We couldn't see that happen to these babies," she said. "They're just too nice of horses."
Tammy Aldrich, FoalQuest's secretary who processes the adoption forms, said the foals are born on large Canadian ranches that raise mares to harvest their urine for medicinal purposes. She said estrogen is extracted from the mares' urine, which is used to produce Premarin, a prescription drug for menopausal women.
"Unfortunately, for a mare to produce this estrogen, she must be pregnant," she said. "They can't abort the baby, so the babies are born, and then we try to find homes for some of them."
Aldrich said about one-third, or 11,000, of the foals raised on farms affiliated with the North American Equine Ranching Industry Council, are killed. The remaining horses are used for breeding stock, horse shows, recreation and in rodeos.
This year, she said the organization found homes for 260 horses, compared to 140 last year. The horses cost about $1,000 each.
In September, Aldrich traveled from her Florida home to Alberta to help other volunteers prepare the adopted foals for their new owners.
"We just don't go to a farm and buy 10 foals and then try to sell them," she said. "Every baby we pick up has an owner."
A couple from Fall City, Neb., this week drove more than two hours to pick up their adopted horse, a Percheron-paint cross filly, at the Pewtress' ranch.
"If she's as good as we hope she is, we hope to drive to Canada and adopt six of them next year," said Vernell Schutte, who has adopted other wild horses through the Bureau of Land Management in Nevada.
The Pewtresses received a Shire-quarter horse cross they named Liberty and a cream-colored mixed breed named Fieldstone. They join Star, a 26-year-old Halfinger, and Sienna, a 19-year-old thoroughbred that Betty Pewtress still rides competitively.
"Our horses that are trained will train the babies and baby-sit them," she said. "They'll teach them to come in from the rain because they've always been out in the rain."
Betty Pewtress said the foals will require a lot of training because they've had little human contact.
"They have to learn to trust me," she said. "First, they'll have to get to know me as the food lady."
Though the extra training will involve more patience, time and money, Pewtress said it's worth knowing she saved two lives.
"I'm don't know if I'm doing this for my next dressage horse or because I have a big heart," she said.
Next month, Pewtress said she plans to have a "foal baby shower" and invite her friends from the Kansas City Dressage Society.
"The purpose of the foal shower is to enlighten them about these wonderful horses," she said.
Copyright 2018 The Lawrence Journal-World. All rights reserved. This material may not be published, broadcast, rewritten or redistributed. We strive to uphold our values for every story published.