Mesquite, Tex. — When Bill Cannon was left paralyzed on his left side by a stroke 10 years ago, he knew that the only way to keep his body going was to keep his mind in motion.
He sold his private investigation business and pursued a long-held dream to record little-known and humorous tidbits about Texas history.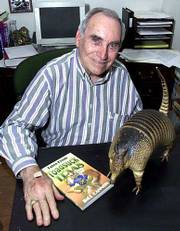 "Being handicapped has really opened up a door for me," the 70-year-old said. "Once I had my stroke, God said, 'You've been doing what you wanted to do for a while, now you'll do what I want you to do.'"
God must have known that only in Texas would Jesus wear cowboy boots, Cannon said.
The statue of Jesus in Justins stands in a cemetery in Paris, Tex. The find is one of the quirky but true stories Cannon unearthed researching his two Texas trivia books. He has also written a book of Texas humor and, most recently, a part-fact, part-fiction saga of Toadsuck, Tex., a community that really existed just south of the Red River.
Texana books are as popular as the state is big, said Leonard Riggio, chairman of Barnes & Noble Booksellers.
"Texas is not just a state, it's a country," he said. "Texans are proud. The reason we have them (Texas books) is because they sell."
And a book called "Tales From Toadsuck Texas" is sure to catch a reader's eye, said Ginnie Bivona, acquisitions editor of Plano-based Republic of Texas Press, which published Cannon's paperback books.
"It's a hoot," she said. "Bill does a wonderful job with Texas humor. He never lets anything stand in his way."
Fact and fiction
Cannon said the volume was a way to combine his love of state trivia with the homespun humor that sprouts from his mind faster than Texas bluebonnets in springtime.
The idea came when Cannon was recovering from hip replacement surgery in a Dallas hospital and a fellow patient asked if he had heard about Toadsuck.
"If there was ever such a place in Texas, the very name warrants further research and perhaps even exposure in print," he told the woman.
To Cannon's surprise, he discovered such a community was founded in 1869 in Grayson County and named after the nearby Toadsuck Saloon. Both may have been inspired by the town of Toad Suck, Ark., Cannon writes.
Born the same year was the North Texas town's not-so-favorite son, William Henry "Alfalfa Bill" Murray. Elected Oklahoma governor in 1930, he instigated the Red River War.
Murray drew Texans' ire when he called in the National Guard and temporarily defied a court order to open a free bridge across the Red River.
By then, Toadsuck had long ceased to exist. In 1897, Toadsuck residents moved the town closer to railroad tracks and renamed it Collinsville, now home to about 1,200 residents.
Toadsuck's short history didn't dissuade Cannon from writing a 168-page book. To fill in the blanks, he created fictional characters like state trooper "Three Fingers" Findley and locations such as Opal's Kurl Up and Dye Beauty Salon.
"I picked names that were unsophisticated and country," Cannon said. "A lot of those names I picked from the obituaries. Texans are gifted with good double names like Mary Pearline and Billy Ed."
'My window of opportunity'
For Cannon, the creative effort also has been a way to create a new life after adversity.
Cannon, who has two daughters, said several years ago he divorced his wife of 20 years so she would not have to spend the rest of her life caring for him.
"She's still my best friend," he said. "We have a saying in Texas. If you see a turtle on a fence post, you can bet your bootstraps somebody helped him get there. That's how I feel about her. But she needed a life of her own."
He moved into an assisted-living center in Mesquite where he spends most days at a computer, using his one functioning hand to type his manuscripts.
On his desk are almanacs of Texas history, a bronze bust of Abraham Lincoln and a stuffed armadillo named Lil Tex. The one-room apartment looks out into a sunlit courtyard.
Each morning Cannon calls a Texas trivia question into KAAM radio station, where he has been a morning favorite for more than a decade.
Cannon said his writing career, which provides enough income to sustain itself, is just taking off. He has written several novels he hopes to publish, including an account of early Dallas settlers, and says he has more ideas than Texas has cacti.
But he also takes time to talk with groups of senior citizens and encourage them to make the most of life, no matter what their physical ability or age.
"My first book didn't come out until after I was 65," he said. "Getting older is a milestone, but it can be a beginning of a whole new life if you can use it. Writing has been my window of opportunity."
Unlike Toadsuck's beauty parlor, Cannon says he would not curl up and die.
Copyright 2018 The Associated Press. All rights reserved. This material may not be published, broadcast, rewritten or redistributed. We strive to uphold our values for every story published.