Marla Jackson remembers a quilt in her great-grandmother's house. The quilt was made of pieces of old clothing and scraps of fabric that belonged to family members.
The quilted bedspread, her great-grandmother Lucille Crum said, reminded her of significant events in the family's history and the relationships between relatives.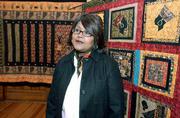 "My great-grandmother was a slave," Jackson said, explaining that at the age of 10 Crum saw her mother being sold to the highest bidder at an auction.
Jackson grew up hearing about the pride, spirit, pain and joy of her family's heritage, an oral history that has continued to be passed from generation to generation.
Four years ago, however, Jackson took those often-told stories and began stitching them and the feelings they evoke into large narrative quilts.
"I went to the Smithsonian Institution and saw a traveling quilt show (of African-American quilts)," she said. "I left a note with the curator. I said I was African-American and a quilter, and what would I do to get (my quilts) displayed."
Jackson, who works the night shift at Community Living Opportunities, will be submitting slides of her quilts to the Smithsonian soon, but has already taken the first step to make her quilts known. She is showing her works through Dec. 14 at Watkins Community Museum of History, 1047 Mass.
Each quilt in the show has a story:
l "Pride" is a series of quilt blocks showing profiles of women's faces all lifting their heads high, all strong in purpose.
"One of the things my mother always said was, 'Have self-respect. Do not bring reproach on the family name,'" Jackson said.
One of the women has a marking on her cheek, denoting she was a slave. Jackson said oftentimes when Africans were sold into slavery they would mark their faces with the sign of their tribe. That way if they ever returned to their homeland, they could be reunited with their family.
l "Labor Ready" shows a black man who is wrapped in chains and remembering his past life in an African village. The chains are then broken and he is given a quilt block by Harriet Tubman, a runaway slave who later helped other slaves escape through the Underground Railroad. The quilt block, Jackson said, symbolizes freedom. The narrative is sewn on a red background, symbolizing the blood shed by slaves.
"This was the most difficult for me to make," she said, explaining that sewing the chains on the figure was painful to do.
l "Corporate Daycare" shows a black woman with a black baby and a white baby at her chest. Many times, slave women would breastfeed their masters' children. In the background are women picking cotton, tending to children and performing other chores.
l "First Born" depicts how Jackson felt at the birth of her first child, and how other black women feel toward their children. At the foreground is a woman holding her child toward heaven. In the background is a village of children playing patty-cake, plus dancers and drummers, animals and baskets of fruit.
"It takes a village to raise a child," Jackson said. "Everyone will have a (part in it)."
l "Snake Bit" is based on a comment made by Jackson's great-grandmother. As a child, Jackson would write letters for her great-grandmother and read letters sent by relatives. One letter spoke of a cousin who was "bit by the snake," a term used by slaves that meant a woman was pregnant.
The quilt shows a pregnant woman carrying a child on her hip. Waves of curves stream down the right side of the quilt. The curves, Jackson said, represent the rounded bellies of pregnant women.
Jackson said she does not intend to sell the quilts on display at the museum and is working on other quilts to add to her next show.
"In my sleep, I dream about what I want (on the quilts)," she said. "As I'm working on one quilt, I'm dreaming of another."
Copyright 2018 The Lawrence Journal-World. All rights reserved. This material may not be published, broadcast, rewritten or redistributed. We strive to uphold our values for every story published.