EUGENE, ORE. — Don Hunter's passion for sounds began with the night trains, huge steam locomotives that whistled past his house as he lay tucked into bed.
The trains would roll into the depot and send off four deep whistle blasts, a signal to the brakeman to walk behind the train to watch for engines that could hit it.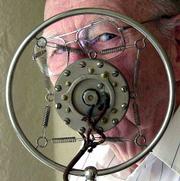 Years later, Hunter remembers the sounds of those trains with loving precision: the deep, lonely bellow of the whistle reverberating in the forest, the "chuffing" of the turning wheels and the sharp bleat of a locomotive about to start.
Those train sounds are still Hunter's favorite among an eclectic list of noises that have all but vanished from the American auditory landscape but he diligently searches for them all.
He has spent much of his life traveling the world in search of what he calls "dying sounds," sounds that are disappearing as a quieter technology takes center stage. When he finds them, he records them.
"I've always been interested in sounds because sounds are like fragrances they bring back memories," he said. "I could see sounds disappearing from the scene, and I wanted to preserve them."
Patiently, methodically, the soft-spoken Hunter, at age 85, has compiled a soundtrack of life in the 20th century, from summer crickets to university choirs to long-lost machinery. His painstaking work has attracted interest from the Oregon Historical Society and the Smithsonian Institution, but Hunter hasn't promised anything yet.
Thousands of cassettes, reel-to-reel tapes and fragile acetate records line the walls of his three-room basement studio, stretching back 69 years. Each is neatly labeled: "Horses Plowing, summer 1977;" "Steam Logging Donkey, Mineral, Wash., 16 Feb. 1966;" "Yakima Streetcar, 1975."
He can't listen to some of his oldest recordings including a Eugene High School student playing the euphonium in 1932 because no one makes needles for the dated, pre-grooved records anymore.
He's hurrying to transfer his best work onto digital minidiscs before the original recordings disintegrate.
Hunter, who founded the University of Oregon's audiovisual department in 1946 and worked there until his retirement in 1977, has dedicated almost every spare moment to his passion.
He has traveled to countries that still use steam engines regularly China, Argentina and Paraguay to capture the machines' nostalgic rhythm. He has crept into strangers' back yards in the middle of the night to record crickets and driven nearly 2,000 miles in three days to hear a "Big Boy" locomotive carry grain on its last run.
He once woke his wife at 4 a.m. to chase a forest fire miles away in Tillamook, Ore.
"I've been used to a lot of these crazy hours," said his wife, Helen. "He's been a legend in his own time."
Hunter bought his first reel-to-reel tape recorder for $200 in 1947. It was the only one in town, and Hunter used it to record a boat race, the first tape recording ever broadcast on the town's only radio station.
His obsession with documenting sounds didn't take root until 1955, though, when he got equipment that allowed him to record in stereo. Then the impulses came: cars driving through the new Willamette Highway Tunnel, people speaking Basque at a festival in eastern Oregon, steamboat whistles and summer thunderstorms.
In 1983, crews brought out an old steam engine for a local festival. The engineer stopped for a cold drink in the middle of a dense forest the kind that created the echoing train blast of Hunter's earliest memories.
He summoned his courage and quietly asked the engineer to send off the four rumbling whistles of his childhood. A log truck rumbled by, ruining his recording. Hunter waited, and then asked again.
"I like to get things as they naturally happen," he said. "But that day I got the most beautiful recording."
One of his favorite recordings is still a tape he made on Jan. 1, 1959, of a single-cylinder woodsaw. Its putt-putt whine reminds Hunter of his childhood, when a man with a blade on a horse-drawn cart would cut neighbors' logs into firewood for a small fee.
When Hunter found a similar woodsaw in 1958, he was so eager to record it that he cut down his own ash trees.
Copyright 2018 The Associated Press. All rights reserved. This material may not be published, broadcast, rewritten or redistributed. We strive to uphold our values for every story published.