Columbia, Mo. — Missouri didn't stop Chris Simms for long.
Simms passed for four touchdowns and ran for a fifth as No. 7 Texas recovered from a frustrating start to beat Missouri, 35-16, Saturday.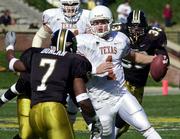 Simms has thrown 12 touchdown passes with one interception the last three weeks.
"My receivers have me confident that I can go to them when times get tough or when we need a big play," Simms said. "They did that again today."
Cedric Benson had 157 yards on 31 carries, his third straight 100-yard game. Texas (7-1, 4-1 Big 12) put together several lengthy drives, scoring after 10, 13 and 11 plays, after coming up empty on an 18-play march at the start of the game.
Texas controlled the ball for 39:22, nearly two-thirds of the game.
Texas has won 13 of its last 15 overall and has a six-game winning streak on the road. The Longhorns' defense, giving up 13 points a game, held its fifth straight opponent to fewer than 300 yards.
Zack Abron had 109 yards rushing on 13 carries and a touchdown for Missouri (3-4, 2-3), which has lost 42 in a row to Top 10 teams since 1980. Abron has three straight 100-yard games and four overall for the Tigers, who were outgained 421-244.
"We walk in this locker room and people are cheering, 'Great job, Missouri,"' MU coach Gary Pinkel said. "I hate that. That's how losers think."
Simms was 24-for-30 for 229 yards, with scoring passes to B.J. Johnson, Brock Edwards, Roy Williams and Brett Robin.
Copyright 2018 The Associated Press. All rights reserved. This material may not be published, broadcast, rewritten or redistributed. We strive to uphold our values for every story published.