Toronto — In cutthroat Hollywood, where everyone's suspicious of everyone else, a lucky few have someone utterly trustworthy to fall back on. Someone with whom they share the workload, with whom they share success and with whom they share genes.
Siblings have long been players in Hollywood, from the front-office partnerships of the Warner and Disney brothers to the on-screen careers of all those Baldwin and Carradine brothers.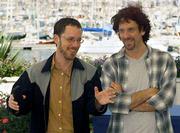 Now, filmmaking partnerships between siblings are growing more common, with this fall bringing collaborations from Joel and Ethan Coen ("The Man Who Wasn't There"), Peter and Bobby Farrelly ("Shallow Hal"), and Albert and Allen Hughes ("From Hell").
Such partnerships take different forms. The Coens co-write screenplays, with Ethan taking the producer's credit and Joel the director's. The Farrellys share producing, writing and directing credits. Albert and Allen Hughes, identical twins, take directing credit as "The Hughes Brothers."
"It's easier that way and more catchy than 'directed by Allen Hughes and Albert Hughes,"' Albert said at the Toronto International Film Festival, where "From Hell" premiered in September. "It's too many names, and we're not really that excited about seeing our separate names on screen. We're, like, hiding behind it with a united front. And it was something we were comfortable with, because we were known as the brothers to people who knew us."
In Italy, siblings Paolo and Vittorio Taviani have made films together since the early 1960s. But fraternal filmmaking duos were still a novelty when the Coen brothers made their debut film, "Blood Simple," in 1984.
An unusual sight
Four years earlier, brothers David and Jerry Zucker and collaborator Jim Abrahams had to fight to share directing credit on "Airplane!" The Directors Guild of America was unaccustomed to the notion of allowing more than one name on a film.
The guild eventually relented, but not before Jerry Zucker legally changed his name to "Abrahams and Zuckers" so all three might be included in the directing credit.
"There's a logic to brothers working together, because you grow up together and you know each other so well," Zucker said. "The moniker 'Brothers' for a clothing store, a tire store, a plumbing store, or a circus like Ringling Brothers you see it all over the place, but it took a while to see it in film directing."
The Coens, and the Hugheses, with their debut "Menace II Society" in 1993, helped inspire other sibling teams today. Such pairings became trendy and commercial with the box-office success of the Farrellys on "There's Something About Mary," Andy and Larry Wachowski on "The Matrix," and Paul and Chris Weitz on "American Pie."
The Wayans brothers especially Keenen Ivory, Marlon and Shawn have teamed on various films, the "Scary Movie" franchise among them. Twins Michael and Mark Polish co-wrote and co-starred as Siamese twins in "Twin Falls Idaho," directed by Michael Polish. Brothers Derick and Steven Martini co-wrote and co-starred in last year's fraternal comedy "Smiling Fish and Goat on Fire."
"You really have to thank all those brothers. I think they created the precedent," said Jenniphr Goodman, who co-wrote last year's romantic comedy "The Tao of Steve" with sister Greer Goodman and their friend, Duncan North. Jenniphr Goodman directed, Greer Goodman co-starred.
"We've just got to get more sisters in on it," said Jenniphr, who is co-writing another screenplay with her sister which the two plan to co-direct.
Sisters, too
Sister acts are less common, but there have been successful pairings. Nora Ephron has directed films co-written with sister Delia Ephron, including "You've Got Mail." Sisters Alex and Sylvia Sichel collaborated on the 1997 drama "All Over Me."
Many sibling partners are close in age and developed an interest in film growing up together. But the sense of cinematic kinship can endure among siblings further apart in age.
Josh and Jacob Kornbluth had the same father but different mothers. Josh is 13 years older and was out on his own while "Jake was becoming a conscious entity," Josh said. Yet they came together to co-direct "Haiku Tunnel," adapted from a performance monologue Josh Kornbluth created about his adventures as an office temp.
"It's strange, even though we grew up completely separately, how close our sensibilities are," Jacob said. "Even our editing decisions, when it came down to it, we almost always agreed."
"While we were editing, we sat in identical chairs," Josh said. "We're not identical like the Hughes brothers, but we at least had identical chairs."
Starring Josh, "Haiku Tunnel" opened in September.
"I know it wouldn't have been possible if we didn't work on this together," Josh said. "If we work together, we'll make better stuff in the future than we would make individually."
Coming soon
Coming in November is "Out Cold," a snowboarding comedy that marks the directing debut of brothers Brendan and Emmett Malloy. Due next year is the heist romp "Welcome to Collinwood," written and directed by brothers Anthony and Joe Russo.
The Wachowski brothers are busy with the next two "Matrix" films, the first one scheduled for release in 2003. The Weitzes, who co-directed this year's Chris Rock comedy "Down to Earth," are collaborating on next year's adaptation of Nick Hornby's novel "About a Boy."
Copyright 2018 The Associated Press. All rights reserved. This material may not be published, broadcast, rewritten or redistributed. We strive to uphold our values for every story published.