From the start, Free State High's No. 1 girls runner, Mallory Richardson, was a step behind the frontrunners at the girls Class 6A state cross country meet Saturday at Rim Rock Farm.
Richardson, 13th at state as a sophomore, finished a disappointing 24th, missing a medal by four placings.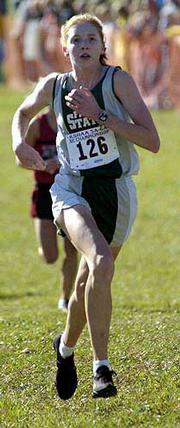 "I just didn't have my best race," said Richardson, a junior who finished in 12 minutes, 45.9 seconds in the 2-mile run to lead the city entries. "I didn't get out as fast as I needed to. The entire race I was trying to play catch-up. There were so many people in front of me and it made it difficult."
Leavenworth senior Amy Hastings dominated the race, winning in 11:29.9. Blue Valley Northwest sophomore Taryn May took second in 11:59.5.
Richardson had hoped to crack the top five.
"I got stuck in the back, and you lose track of who you need to focus on," Richardson said.
At regional last week in Manhattan, Richardson placed second in 11:59. Four runners Richardson finished ahead of at regional placed higher than the FSHS runner at state.
"Mallory didn't run her best race today," said Heffernan, whose squad placed eighth. "Unfortunately, lessons at the state meet are the hardest ones to learn. She was capable of getting in the top 10. She had a rough start early on and got a little too far back. Fortunately, she gets a chance to fix that next year."
Senior Sarah Butler, Lawrence High's No. 1 runner, placed 27th in 12:49.5.
"I wasn't mentally into the race the whole time like I normally am, and that's what hurt me," said Butler, whose team placed seventh. "I had a hard time at the start. I got boxed in and let the lead pack kind of get away."
Shawnee Mission Northwest, led by freshman Becca Ingraham (10th, 12:24.2), won the team title with 50 points. The Cougars have won back-to-back state titles and eight since 1990. Blue Valley Northwest finished second with 66 points.
In the 5A race, Shawnee Heights sophomore Trisa Nickoley defended her individual title, winning in 11:52.2, and Great Bend repeated as team champs. Kendra Chambers placed 10th to lead Great Bend.
Copyright 2018 The Lawrence Journal-World. All rights reserved. This material may not be published, broadcast, rewritten or redistributed. We strive to uphold our values for every story published.