One hundred years ago, there was no radio, no television, no Internet. The same thing may be true 100 years from now.
Even the mighty newspaper that durable hunk of tree you hold in your hand, that survivor in the age of CNN.com could be history, if someone finds a way to deliver the news with the depth of a newspaper and the speed of television.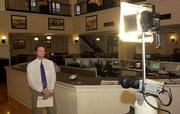 Most newspaper editors would probably agree with Richard Brack, managing editor of the Lawrence Journal-World newspaper, when he says he hopes younger generations discover the joy of reading a printed newspaper. But he knows they might not, that something better might come along.
"Who would have guessed 10 years ago," he says, pulling his Palm Pilot handheld computer from its case, "that I would be able to read my newspaper on that thing?"
Bob Steinbugler might have guessed.
Steinbugler is the head of the IBM Corporate Strategic Design Program in Raleigh, N.C. Two years ago he came up with a nonworking model of a flexible plastic sheet that could display an image like a newspaper page.
The 'e-Newspaper'
He called it the e-Newspaper. His concept shows what might be possible in as little as five to seven years: a page that can have the freshest news beamed to it anytime, anywhere. Maybe with video, too.
Far-fetched? Imagine how the idea of radio would have sounded at the turn of the 20th century.
Steinbugler says newspapers are basically two companies one that reports the news, another that prints it. He soberly declares, "In our view, the printing company is going to die."
People have pronounced newspapers dead before. Radio was supposed to kill them, then television. Now, the Internet is the newspaper's grim reaper du jour.
Steinbugler knows this. But he thinks that something like the e-Newspaper, which could deliver as much news as a reader wants like a newspaper but with the television's immediacy could finally do in print news.
And if there's one lesson of the past 100 years, it's not to underestimate technology. The 1900s began with the wiring of the nation, for phones and electricity. The new century begins with a wirecutter, as phone signals and, soon, computer signals travel without benefit of copper.
What will survive
Henry Jenkins, co-chair of the Media In Transition Project at Massachusetts Institute of Technology, says there will always be a demand for local news.
"Newspapers in some configuration will survive," he said. But what's published, and how, "that's changeable."
Jenkins compares it to the 8-track. Sure, he says, the 8-track is dead. But music isn't. We just get it differently now. Imagine a radio station that played whatever you want to hear, when you want to hear it then beamed the music to the "radio" on your hip.
Brack's newspaper in Lawrence is combining some of those technologies. In late September the Journal-World and its online content division combined newsrooms with 6News, the news channel of cable television programmer Sunflower Broadband. The World Company owns Sunflower and the newspaper.
Now, the Journal-World's city editor and online editor sit side-by-side with the news director from 6News. Reporters share stories; 6News reporters even get Journal-World bylines, and Journal-World reporters explain the news from remote cameras in their newsroom.
'Selling information'
"We're a multimedia company," Brack says. "The newspaper is our flagship product, and that's where most of our reporting power is.
"We're selling information," he says, not necessarily newspapers. He says that selling news whether in a newspaper, on television, online, or some other way not invented yet "That's where the future is."
Steinbugler thinks even his e-Newspaper is insufficiently radical. Asked about 100 years from now, he thinks any hand-held device like his e-Newspaper would have long since gone the way of the Teletype.
"I don't think you even have devices then," he said. "I think you'll be able to just see it in your brain," maybe through a chip implanted there. "I think you're going to just get the information, and you won't even hardly know how you got it."
An implanted device to get the news? Who would buy such a thing?
Steinbugler answers with an analogy: the pacemaker. It's implanted under the skin, and no one seems to mind.
Who could have seen that coming 100 years ago?
Copyright 2017 The Associated Press. All rights reserved. This material may not be published, broadcast, rewritten or redistributed. We strive to uphold our values for every story published.