Nancy Vogelsberg-Busch is excited about her new product.
She recently received labels to start marketing her certified organic beef franks under the label "Bossie's Best." The smoked meat is made from her certified Hereford-Angus cross cattle raised on the family farm near Home, north of Manhattan.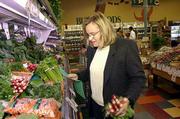 "I farm, but mainly I'm a mom," she said. "I wanted to have something wholesome for my son to eat, and it tastes good."
Vogelsberg-Busch's product is now available at Community Mercantile Co-op, 901 Iowa, along with approximately 90 other products made or produced by local people.
The Merc showcased many of these products Saturday during its first "Local Food to Local People" event. Participants were invited to a farm tour and potluck dinner Saturday evening at Dan Nagengast and Lynn Byczynski's farm southwest of Lawrence.
Throughout the Merc's aisles, shoppers can find different kinds of flour milled by farmers in western Kansas, an apple/pear cider and homegrown apples from an Overbrook farm, hot pepper or grape jelly from Leavenworth.
Nancy O'Connor, the store's nutrition educator and marketing director, said buying local allowed people to have more of a connection with their food.
"Intent is one thing, following through is another," she said. "People get in such a hurry and may buy Pillsbury flour instead of Heartland Mill flour ... This requires more of a commitment."
It's an effort that's well worth it, said Thom Leonard, who helps develop better flour at Heartland Mill in Marienthal. The company is owned by a group of farmers in western Kansas who buy and process a variety of grains and beans.
"We know what goes into the crop," he said. "We process it ourselves. Because we're a small company, we're able to keep track of all the processes."
Buying locally isn't just about keeping money in the community, said Chuck Magerl, owner of Free State Brewing Co., 636 Mass.
"It's more a matter of keeping the social sense of community strong," he said. "When it's a local person doing that work, you know you have a real interaction with them. You can respond to them as far as the quality of their product, make suggestions for additional items that would work well and just really have an immediate reference to them that doesn't involve focus groups and market studies and things that are cumbersome."
Copyright 2018 The Lawrence Journal-World. All rights reserved. This material may not be published, broadcast, rewritten or redistributed. We strive to uphold our values for every story published.