Despite a challenge from Lawrence's two high schools, Shawnee Mission Northwest remains cross country king.
The Cougars placed three runners in the top 10 on Saturday at Rim Rock Farm to capture their eighth consecutive Class 6A state boys title. SM Northwest finished with 77 points, followed by Lawrence High (89) and Free State (95).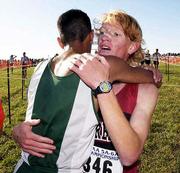 "Northwest has that attitude now that they're invincible at the state meet," FSHS coach Steve Heffernan said. "It's hard to beat someone when they're approaching it that way and have the talent to back it up."
LHS thought it had enough talent to end Northwest's reign. The Lions, ranked No. 1 in the state, twice placed higher than the Cougars during the regular season and hadn't finished behind a Kansas school all season.
"It wouldn't be honest to say that second is satisfying because it isn't," said LHS coach Dick Reamon, whose squad finished second for the third time in four years. "We wanted it and we wanted it all."
Junior Dylan McClain placed second in 16 minutes, 34.9 seconds to pace the Lions in the 5-kilometer race. Senior Justin Riley finished ninth in 16:53.1.
"We're disappointed we didn't win," said McClain, who finished 1.6 seconds behind Wichita Heights junior Ryan Wilson. "They (the Cougars) always have a deep team, and that's why they're a powerhouse. We're disappointed we didn't come out on top. We worked so hard for a long time. We were aiming for first and it still is disappointing."
Reamon knew it was going to be close.
"It wasn't like we were going to walk in here and take that big trophy without doing something special to get it," Reamon said.
McClain, 85th at state as a sophomore, held off a late burst by SM Northwest's Will Polk to take second.
"When I was coming down the straightaway, I was more worried about the guy behind me," said McClain, a Sunflower League and regional champion. "I could see his shadow on the ground and he was coming on strong. I knew he was a Northwest guy, so I wanted to keep him off of me."
Riley finished one spot ahead of Northwest's No. 3 runner, a remarkable turnaround from last year when the LHS runner took last at state, placing 98th.
"I started a little too slow and spent way too much energy getting with the front pack," Riley said. "With about one-half mile left in the race I was where I wanted to be."
Riley was a part of Lawrence's three second-place teams at state since 1998.
"We had an outstanding season," Riley said. "Northwest ran a little better than we did today. We can't complain. This is definitely an improvement from last year at this time."
Andy Struble, the Lions' No. 3 runner, placed 22nd at 17:26.9.
"It boiled down to, who had the best race today, and Northwest was a little better than we were," Reamon said. "I find no fault with the effort. I have no fault with our focus, with our training. When you come to state, you have to do it that day. We had a great year. I don't want to diminish the year in any way."
Senior Justin White placed 11th in 16:58.7 to lead the Firebirds, who claimed their first trophy at state.
"We didn't expect Northwest to do what they did," White said. "They came out strong. They know what to do when they need to do it. They came out with three incredible runners in the top 10."
Free State was the lone school to have its top five runners place in the top 30.
"We're all happy with how we did," White said. "I'm proud of everything the team's accomplished. I don't think anyone saw us in a position to do something like this."
Free State had been closing the gap on Northwest and LHS all season.
"The guys felt like they ran their best race they have all season," Heffernan said. "We felt if we did that we'd have a chance of breaking up Lawrence and Northwest. We came close. This is a nice ending to our season. Four years ago these guys didn't even make it to state. Taking third is an excellent achievement."
In the boys 5A race at Rim Rock, Great Bend, led by sophomore Tanner Marshall, won the team title for the third consecutive year. Liberal senior Justin Alexander won the individual title in 16:47.7 and Marshall placed second in 17:02.8.
Copyright 2018 The Lawrence Journal-World. All rights reserved. This material may not be published, broadcast, rewritten or redistributed. We strive to uphold our values for every story published.