Japan sent Ichiro Suzuki to America, and America sent Tommy Lasorda to Japan.
Suzuki runs faster. Lasorda is a better talker.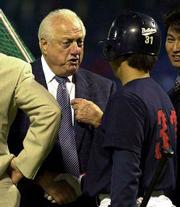 America's manager emeritus spent last week in Tokyo, offering his wit and wisdom to the Kintetsu Buffaloes and Yakult Swallows in the Japanese Series, that country's Fall Classic.
This is the 20th anniversary of Lasorda's first World Series title, when the Dodgers lost the first two games in New York then won the next four.
That team included three current big league managers Davey Lopes, Mike Sciosia and Dusty Baker. Two others, Bobby Valentine and Phil Garner, also passed through Lasorda's managerial academy. The curriculum didn't say anything about being charitable to home-run hitters.
During Barry Bonds' end-of-season dash past Mark McGwire's record, the Houston Astros decided not to pitch to the San Francisco Giants' right fielder. That strategy was viewed in some circles as bordering on un-American. Lasorda thought it was perfectly sensible.
"I wouldn't let my mother hit a home run," Lasorda, a former pitcher, said brightly. "Why would I let Barry Bonds? I don't blame them for not pitching to him. They did what they had to do.
"When I was managing and Bonds came up in a tough spot, I'd hold up four fingers. He'd look over and say, 'Oh, come on, Tommy!'
"If he wants to swing at my pitches, fine. But before every series you'd go over the lineup and say, 'Don't let this guy beat you.' And I wasn't going to let him beat me."
That said, Bonds broke McGwire's record and hit homer No. 73 in his final game of the season.
The fans were thrilled. Lasorda was not.
"The fans," he snorted. "All they care about is the long ball. The McGwire-Sammy Sosa home run derby in 1998 brought back a lot of fans we had lost after the strike. Baseball saw that. So they tightened the cover on the ball and that gave them more home runs."
Lasorda is the Pied Piper of baseball, a goodwill ambassador whose dossier includes a Hall of Fame plaque in Cooperstown. More important than that, more important than anything, was last year's Olympic triumph when he managed Team USA to the gold medal in Sydney.
"Team USA was bigger than anything I'd ever done in baseball," he said. "Bigger than the World Series, bigger than anything. When the Dodgers won championships, Dodger fans were happy. When we won that gold medal, all of America was happy.
"There were 24 guys on that team, 23 of whom I had never met and never seen play. I told them, 'I don't know who you are or where you come from. But when this is over and you bring back the gold medal where it belongs, the whole world will know.'"
The accomplishment of that team of minor leaguers was similar to the long-shot hockey gold medal won by the United States in the 1980 Winter Olympics.
Those victories and the dramatic way they were achieved appealed to Lasorda's sense of patriotism. It is that spirit he believes will carry the country through the perilous times it now faces.
"We must never forget the people who lost their lives on Sept. 11," he said. "We must never forget the people in those planes and the guys who fought back. They proved that real heroes are not on the playing field. We all found out who the real heroes are that day.
"We must never live in fear. We live in the greatest country in the world. We fear no one. We must always remember that."
Copyright 2018 The Associated Press. All rights reserved. This material may not be published, broadcast, rewritten or redistributed. We strive to uphold our values for every story published.