Manhattan — Kansas University's football team was dominated by Kansas State every way possible during Saturday's 40-6 loss at KSU Stadium on offense, on defense and on coin flips?
The Wildcats scored on their first two possessions after winning the coin toss and deciding to defer to the second half, yet still receiving the opening kickoff and having the wind at their back in the first quarter.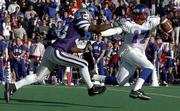 It was that kind of day for the Jayhawks.
"It hasn't gone very well for me," KU coach Terry Allen said of the Sunflower State Showdown, which he has never won in five tries. "K-State has dominated Kansas since I've been here and a few years before that. There's not a heck of a lot to talk about when you get your tail ends whipped every time you play them."
As for the coin flip confusion?
"We wanted the wind," Allen said. "One of the captains got mixed up and didn't realize they had deferred to them. The problem was not that at all. We had a kid make a mistake. That's not going to be the difference in the outcome of the game."
Maybe not, but it certainly didn't help.
Saturday marked the first time this season Kansas didn't score first as the Wildcats opened with scoring drives of seven plays for 77 yards and three plays for 40 yards in grabbing an early 13-0 lead.
During the opening drive, KSU didn't attempt a single pass as senior running back Josh Scobey had four carries for 65 yards.
"Too much Josh Scobey," Allen said. "That initial drive when they took it 77 yards and didn't have to throw the football, I think it really set the stage for what was to come."
And how. Scobey finished with 28 carries for a career-high 204 yards the fourth-best effort in K-State history and two touchdowns. His longest gain was for 45 yards on the first play from scrimmage the longest scamper allowed by the Jayhawks this season.
Kansas State finished with a whopping 450 yards total offense, including 349 on the ground.
"I can't believe that that happened," KU senior defensive tackle Nate Dwyer said of the loss. "Never in my wildest dreams did I think they'd end up scoring 40 points on us. I didn't believe they could do that."
Dwyer, like all the seniors on the KU squad, will complete his college career having lost four games against KSU by a combined score of 196-34.
"It's tough," Dwyer said. "There's not much I can say about it really. That was really as bad as it gets. It's a nightmare."
Things weren't much better on the offensive side of the ball for the Jayhawks, either.
KU finished with a season-low of 212 yards total offense, including a mere 47 on the ground. KU sophomore running back Reggie Duncan was held in check to the tune of 17 carries for 28 yards.
"I don't know what was going on," Duncan said. "A few times the plays worked, a few times they didn't. Things just didn't go our way."
Duncan displayed the one-step-forward-two-steps-back he spoke of by gaining 55 yards, but losing 27. As a team the Jayhawks lost 70 yards on the ground.
A perfect example of the putrid performance might be the third quarter, which saw KU gain a minuscule three yards on 12 plays.
"I don't think we played to our capability in anything the passing game, running game, anything," red-shirt freshman Mario Kinsey said. "We're just going to have to improve."
Through the air, Kinsey had career highs of 14 completions and 32 attempts, but they were for just 139 yards. He also gained 61 yards on the ground, only to lose 42 of them for a net of 19 yards rushing.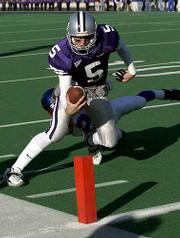 "I think this is the most frustrating game for us all year," Kinsey said of the offense. "We've got to get better."
That even goes for freshman kicker Johnny Beck.
His recent woes continued as he missed field goal attempts of 37 and 40 yards while hitting from 42 and 37 yards. After connecting on eight of his first nine attempts at KU, the Kansas City Piper product has misfired on four of his last seven.
"I'm not happy with myself," said Beck, who is two field goals short of tying the KU record for a freshman. "I did bounce back and make the second one."
The question is, will the Jayhawks (2-5 overall, 1-4 Big 12) be able to bounce back?
KU seemed especially stung after being handed their third straight loss, including back-to-back defeats against bitter rivals Missouri and K-State (3-4, 1-4).
"We're heartbroken," KU junior linebacker Leo Etienne said. "We just two lost two rival games. They showed up today, we showed up too, but they wanted it more."
KU will play host to likely-No. 1 Nebraska next Saturday. Kickoff is 6 p.m. at Memorial Stadium.
"Everybody's obviously really disappointed," KU senior strong safety Jake Letourneau said. "It's hard to lose, especially to your rival. But we all know we just have to continue to work hard and get ready for the next game. Obviously it hurts. It hurts for everyone."
Copyright 2018 The Lawrence Journal-World. All rights reserved. This material may not be published, broadcast, rewritten or redistributed. We strive to uphold our values for every story published.