Nick Wade knows Haskell's football team isn't very good this year.
When a team is 0-9 and has been outscored 306 to 92, it's hard to say one's squad is anything but bad.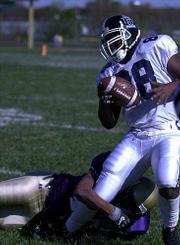 But Wade, a freshman who plays fullback and linebacker, expects losses like Saturday's 56-16 defeat to Lincoln University (3-6) to pay dividends next year and beyond.
"You look around and you see that this team is made up of freshmen," Wade said. "I'm not saying we're looking ahead to next season. We still want to get a win, but we're going to have a lot of experience. There are going to be some pretty good Haskell teams in the future."
Coach Graham Snelding acknowledges his team's youth and as long as his players can stay focused, he is confident good things will come Haskell's way.
Snelding had his hands full trying to keep his players' attention Saturday. The Blue Tigers scored on their first play from scrimmage a 78-yard pass from quarterback Brian Young to receiver Toranza Every.
Lincoln scored touchdowns on its next three possessions, too, with the last one coming via a 21-yard pass after the Fighting Indians failed to field a kick-off.
"We're a young team," Snelding said. "I think a lot of our guys know that they have a lot of football left in front of them and that's why they don't give up."
Lincoln led 35-0 at halftime and outgained Haskell 286-11 in the first half.
The Fighting Indians opened the third quarter and promptly punted after losing three yards on three plays.
But then Haskell's defense held the Blue Tigers and forced a punt Lincoln's third of the game.
"I think our kids are the kind that need something to happen for them to get going," Snelding said. "Once they get going we can play pretty well."
Whatever it was, the Fighting Indians went 53 yards in five plays for their first touchdown a 12-yard run by freshman running back Bobby Dotson.
"We got a little lift from the defense there," Wade said. "We didn't do anything real different from the first half, we just executed. We didn't do that too well in the first half."
Haskell was a little lucky on the scoring drive, too. Freshman quarterback Peter Hahn threw a wobbly ball deep and was intercepted by Ja'Rell Smith, but the pick was negated because of a roughing the passer penalty.
A second personal foul call tacked on additional yardage and gave Haskell a first down on Lincoln's 12-yard line.
"We came out pretty flat in the first half," Snelding said. "That scoring drive was an encouragement. We're getting better, but we have a ways to go."
Haskell will play at Northwestern Oklahoma at 1:30 p.m. on Saturday.
Lincoln 56, Haskell 16
Lincoln 28 7 7 14 56
Haskell 0 0 13 3 16
Lincoln Toranza Every 78-yard pass from Brian Young (Alex Tate kick).
Lincoln Cordolyous Wilson 5-yard run (Tate kick).
Lincoln Earnest Tucker 28-yard run (Conversion failed).
Lincoln Ali Thompson 21-yard pass from Young (Clarence Cosby pass from Young for conversion).
Lincoln Wilson 32-yard run (Tate kick).
Haskell Bobby Dotson 12-yard run (Scott Giroux kick).
Haskell Daniel Brown return blocked kick 5 yards (Conversion failed).
Lincoln Wilson 44-yard run (Tate kick).
Haskell Giroux kick 42-yard field goal.
Lincoln Royce Coachman 9-yard pass from Wilson (Tate kick).
Lincoln Tabvyance Williams 29-yard run (Tate kick).
Copyright 2018 The Lawrence Journal-World. All rights reserved. This material may not be published, broadcast, rewritten or redistributed. We strive to uphold our values for every story published.