Phoenix — Kevin Brown couldn't beat them. Greg Maddux and Al Leiter couldn't do it, either.
All aces, yet all wound up on the losing side when they faced the New York Yankees in World Series openers.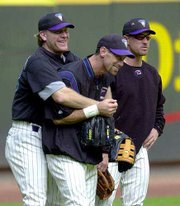 Now pitching, Curt Schilling.
Arizona's best chance to end the Yankees' run of three straight championships could come tonight on a hot night in the desert when Schilling opposes Mike Mussina.
Along with Derek Jeter and Bernie Williams, Schilling will be taking on another strong force the Yankees' history .
"When you use the words 'mystique' and 'aura,' those are dancers in a nightclub," Schilling said. "Those are not things we concern ourselves with on the ballfield."
Schilling, 3-0 with an 0.67 ERA and three complete games in the NL playoffs.
"I recognize Game 1 as being the game that can set the tone," he said. "I recognize the first inning of Game 1 is the inning that can set the tone for the game and all of the things that come with that."
More likely, what happens much later will determine the outcome. Because as potent as the Yankees are in the early going, no team becomes as dangerous in the late innings particularly at this time of year.
Since manager Joe Torre took over in 1996, the Yankees have won an amazing 15 postseason games they trailed in the seventh inning or later.
In that span, they've outscored opponents 113-57 in the late innings.
"I don't think it's just by chance," Jeter said. "This is a group that really understands what the postseason is about."
In the 1998 opener, Brown and the San Diego Padres led 5-2 before the Yankees struck for seven runs in the seventh inning.
In the 1999 opener, Maddux and the Atlanta Braves took a 1-0 edge into the eighth before the Yankees scored four times.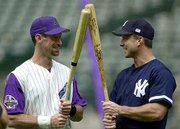 Last year, Leiter pitched the New York Mets to a late lead, but the Yankees scored the tying run in the ninth and won it in the 12th.
"We've been in it before and we don't panic," Williams said.
Every time, the Yankees' penchant for patience paid off. Their strategy? Take a lot of pitches early, tire out the starter and then try to beat the other team's bullpen.
Same plan for Schilling, probably.
"It's going to be our job to match what they do and keep the game close," Torre said. "That's been our formula."
Then again, that approach seems to run contrary to what works against Schilling. Batters who swung at Schilling's first pitch this season hit an incredible .429; on all other pitches, opponents hit only .210.
Schilling tied for the major league lead with 22 wins this season. To get ready for his start, he's been watching tape of his performance on Sept. 1, 1997, when he struck out a career-high 16 in eight innings against the Yankees.
"One of the comments that I've heard about this club, not only this year but in past years, is that they tend to make guys throw a lot of pitches by taking early in the count," he said. "If I'm on tomorrow, there will be a lot of 0-1, 0-2 counts quickly in the game."
Arizona manager Bob Brenly would be glad to see Yankees' hitters standing with the bat on their shoulders.
"If they try to be more patient with him, I'm sure Curt can make an adjustment and do what he has to do," he said.
Among the hitters Schilling will not see in the starting lineup is Paul O'Neill. Without a designated hitter spot, Torre decided to start David Justice in right field and bench O'Neill.
Justice is 10-for-28 (.357) with four home runs lifetime against Schilling. O'Neill is 4-for-19.
Brenly said Schilling and Johnson both volunteered to pitch on short rest, raising the possibility that they could work three times in the series.
"I'm hoping we don't need to do that," Brenly said.
A more immediate factor might be the climate. Gametime temperatures could be in the low 90s.
Schilling gave up a major league-tying 37 home runs, and could be victimized again if the retractable roof at Bank One Ballpark is left open.
"It's going to be warm, so the ball is going to be traveling. This is a hitter's park when the roof is open," he said.
In a city where the Arizona Fall League already has started play for baseball's young prospects, the hot sun could make for an odd setting.
"It does seem kind of strange that the Fall Classic is being played when it's 90 degrees, but I wouldn't have it any other way," Arizona first baseman Mark Grace said.
While Grace is making his first World Series appearance, Diamondbacks third baseman Matt Williams was with Cleveland for a 1997 Series game played in the snow.
"Whether it's 90 degrees or snowing, you don't feel anything during the World Series," Williams said.
Copyright 2018 The Associated Press. All rights reserved. This material may not be published, broadcast, rewritten or redistributed. We strive to uphold our values for every story published.