Kansas University's football team has a quarterback with lightning speed, jaw-dropping jukes and pin-point accuracy.
KU also has a QB who's slow at making reads, sloppy with the football and prone to overthrowing receivers by 20 yards.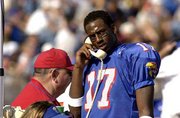 The problem for the Jayhawks is that both quarterbacks are red-shirt freshman Mario Kinsey.
"Mario's a project in the making. There's no question about that," KU coach Terry Allen said. "He does some brilliant things and he does some not-so-brilliant things. He's really a tale of two people."
The key for KU in today's game at Kansas State will be whether Dr. Jekyll or Mr. Hyde shows up in Manhattan. Kickoff for the Sunflower State Showdown is 2:30 p.m. at KSU Stadium.
Both the good Kinsey and the not-so-good Kinsey were on display during one particular play two weeks ago against Oklahoma. After making a handful of nifty moves for an impressive 12-yard run, Kinsey was stripped of the football while waving it around haphazardly.
Just last weekend against Missouri, Kinsey lobbed a pretty touch pass into the outstretched arms of sophomore wide receiver Derick Mills for a 41-yard touchdown, and later found Mills again behind the defense on a corner route.
Unfortunately for the Jayhawks, Kinsey and company also punted on eight of their 13 possessions, including four drives that were three-and-out.
"He's getting there, but he's still a freshman," Allen said. "I labor with that, remembering he's a red-shirt freshman. In Saturday's game, he makes some big-time throws, leads them down at the end of the half and had some big throws early.
"But at the start of the third quarter we had some three-and-outs where if he had just done what he was supposed to do, there's no way we would have three-and-outed it.
"Does he have the ability? Yeah. Has he grasped it all yet? No. Will he? I hope so, and when he does he could be pretty special," Allen added.
Kinsey's numbers through five college games aren't exactly eye-popping, but they're none too shabby, either.
He is second on the team in rushing with 81 carries for 187 yards and three touchdowns, and he's 47-of-110 passing for 721 yards and five touchdowns with just a pair of interceptions. Kinsey also leads the team in total offense with an average of 181.6 yards a game and is tied for the team lead with his three TDs.
Both Allen and his quarterback agree, though, the lament about the latter is his meager pass-completion percentage 42.7.
"As far as me personally, I don't think I'm where I should be," Kinsey said. "I should be doing a lot better percentage-wise throwing the ball. I think it's just more needing to be patient, sitting in and just making the throws.
"As the weeks go on, I'm getting better and better, but I think I should have adjusted to it quicker than I have been."
As it turns out, he seems to get better as the game goes on as well.
Perhaps the highlight of his young career came at Texas Tech earlier this month. With the Jayhawks trailing 24-16 in hostile territory, Kinsey engineered an 11-play, 63-yard scoring drive to force overtime. During the first overtime session, the QB made a knee-buckling fake on an option play and scampered 23 yards into the end zone.
"That's what happens every week," Kinsey said, "as the game goes on we get better and better. But I think (today) we're going to have to come out good at the beginning and as we go on get excellent."
In Kinsey the Jayhawks have a double threat that can give opposing defenses fits. Against Mizzou, for example, Kinsey had a career game passing the ball, completing 13 of 25 passes for 242 yards and two TDs with no interceptions.
He can also beat teams with the option keeping the ball or dishing to sophomore running back Reggie Duncan as he displayed against Texas Tech.
"Offensively, their use of the quarterback, Mario Kinsey, has made them a dangerous offense," KSU coach Bill Snyder said. "He can pull the ball down and scramble with it, he can run some option and he can run some of the quarterback run game. He can make some of the sprint-out passes and action passes, and he can create some problems because of his mobility."
Unfortunately, he also can create some problems with his own team.
"If you watched us, I don't think we did things that were too drastically different throughout the course of that game," Allen said of last weekend. "But when he made his right read, threw the ball correctly, it was boom, boom, boom. When he didn't, we had people running wide open, but we were unable to get the ball to them.
"We live and die with his mistakes. That's one of the perils of a freshman."
Copyright 2018 The Lawrence Journal-World. All rights reserved. This material may not be published, broadcast, rewritten or redistributed. We strive to uphold our values for every story published.