It's been a good year in America for Mariatu Kargbo and Sia Kellie better than previous years in Sierra Leone, where rebels hacked off Mariatu's forearms and smashed Sia's right arm into pulp.
Since coming to the United States last year, the teen-age girls have become fans of American food and television, taken a trip to Canada and made rapid progress since starting school in Missouri.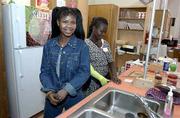 Even better, they've started to recover from their injuries, each undergoing multiple surgeries and physical therapy.
"These are my new arms," Mariatu said Friday, smiling as she displayed her prosthetic hands and rings adorning the brown polymer fingers.
Mariatu, 15, and Sia, 13, returned to Central Junior High School on Friday, a year after they shared their story with Lawrence students for the first time. They spent the day attending classes and eating lunch with the students.
A change in the girls was palpable. Shy a year ago, they were smiling and outgoing Friday as they taught the students how to make a spicy Sierra Leone soup.
"They are the most emotionally well-adjusted kids I know, considering everything," said Katy Houk, the Raymore, Mo., woman who serves as a "mom" to the two girls.
Mariatu was attacked in January 1999 by rebels of the Revolutionary United Front. They pulled her from a relative's house near the capital city of Freetown and amputated her forearms.
Sia's right elbow was shattered and her hand disfigured in a separate assault by the rebels three years ago.
Lonny Houk, Katy's husband, is cofounder of Feed My Lambs International, a Christian relief organization. He was shocked by the plight of orphaned, mutilated children when he led a surgical team to Sierra Leone in August 2000. His organization brought the girls to the United States for additional medical treatment.
Mariatu has been fitted with electric arms that allow her to grip pencils and do other work. Sia has undergone eight surgeries to reconstruct her arm and reduce the swelling.
"They've been nothing but positive," Katy Houk said.
Both girls said they like America and they're starting to sound like American teen-agers.
"I like school," Sia said.
"Me, too, I like school," Mariatu said. "But I don't like to get up in the morning. And I like TV."
Sharon Witters, a teacher at Central and a relative of the Houk family, said her students benefited from meeting the girls.
"A lot of kids the last time were so disappointed they weren't back the next day," Witters said. "They were hoping they were coming to school here."
Copyright 2018 The Lawrence Journal-World. All rights reserved. This material may not be published, broadcast, rewritten or redistributed. We strive to uphold our values for every story published.