Wizards, pirates and witches will come out of hiding Wednesday night to prowl the streets and charm partygoers.
Hidden under the hats and behind the masks are people who searched for the perfect Halloween ensemble. Most had a little help from the costume and party shops in town that have displayed creative outfits for the past several weeks.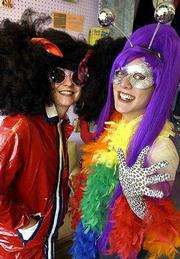 For people still wondering what character to portray, there's time to hurry to the nearest store and ask the clerks for some advice.
"If you're doing last-minute costumes, you'll probably want to hit us," said Gwen Billings, whose family owns Fun and Games, 816 Mass. "We can help you find something, but it's always wise not to wait until the last minute because we get pretty picked over."
The store offers a variety of options for costume-seekers everything from child-size outfits to extra large hats, masks and more for adults.
"We've got all kinds of accessories more than 100 different kinds of wigs from psychedelic orange, red, white and blond to long, short or curly," Billings said. "This is our big season, so we really gear up for it."
Blast from the past
One peek into the storefront at Arizona Trading Co., 734 Mass., reveals a retro-lovers' paradise with funky shirts in bright colors and polyester pants. It's a true blast from the past.
Store owner Jennifer McKnight said people will find prepackaged outfits or can create their own.
"We always try to carry a lot of good costume ideas," she said. "And we've got a lot of creative people here who can put together interesting costumes."
Much of the store's Halloween wear follows a '70s or '80s theme, including a few mullet and punk rock wigs.
"We have a lot of vintage outfits like Austin Powers or anything from the disco era and things like that," McKnight said. "We also have unusual things this time of year like masks and different pieces that people can choose from."
In addition to the fun and funky look, classic Halloween costumes are popular.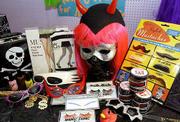 "We're seeing a lot of good old-fashioned Halloween costumes like witches, devils and ghouls," Billings said. "People do unusual things with wigs and makeup to jazz them up a little."
Another mainstay are the black hooded robe outfits, a favorite for men who want to be a grim reaper, said Kathy Barland, an employee at Sarah's Fabrics, 925 Mass. The store rents a variety of costumes, ranging in price from $20 to $40, and sells patterns and fabric for people who want to make their own costumes.
Although some costumes take little time to make, Barland said it's easier to rent a premade outfit.
"The patterns used to be very simplistic in their design and requirements," she said. "Now, some are very elaborate and more involved than they used to be. But that's probably not going to work for someone who waits until the last minute."
Barland's best advice for time-pressed Halloween shoppers is to rent or accessorize.
"I'd hurry down here and rent a costume," she said. "If I couldn't find something to rent, I'd try to pick some accessories like wigs and makeup."
Put on a new face
Some costumes wouldn't be complete without a streak of eye shadow, fake red blood or white-and-black face makeup.
Babette Crowder, owner of Babette, a beauty boutique at 924 1/2 Mass., suggests using theater makeup. It's a little more expensive, she said, but looks better than the cheaper products.
"You kind of get what you pay for," she said.
When applying makeup, Crowder recommends against using products too close to the eyes if they're not designed to go there. And don't share items like mascara.
"You can use your own stuff to transform yourself," she said. "I'm going as Ginger from 'Gilligan's Island' so I'm using fake lashes and making a beauty mark."
Try makeup for the younger folks, too.
"Makeup is better for children than masks because it offers better and clearer visibility," she said.
A few years ago, Crowder applied makeup to complete her daughter's pumpkin costume.
"I used black eyeliner and made triangles over eyes and orange lipstick on her lips," she said. "She looked really cute."
Copyright 2018 The Lawrence Journal-World. All rights reserved. This material may not be published, broadcast, rewritten or redistributed. We strive to uphold our values for every story published.