Buffalo, N.Y. — Doug Gilmour wasted little time making his presence felt in his first game back in Buffalo.
Gilmour was ejected after taking out old teammate Vaclav Varada, who had knocked out Montreal goalie Jose Theodore in a first-period collision.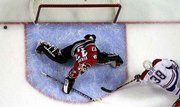 Brian Savage recorded his seventh three-goal game as Montreal beat the Buffalo Sabres, 5-2, on Friday night, despite losing their starting goalie for the second straight game.
Theodore, playing in place of starter Jeff Hackett, was knocked out when Vaclav Varada collided with him as the two fought over a loose puck near the blue line. Theodore dove on his stomach and swiped the puck away just as Varada collided with him, sending Theodore's helmet flying.
Theodore left the game with concussion.
"I've been involved in this game a long time, and that's one of the cheapest shots I've ever seen," Montreal coach Michel Therrien said. "When the goalie's going out from his net he's got no protection. When a guy's coming up with his knee like that, to his head, it's unacceptable."
Said Buffalo coach Lindy Ruff: "If (Varada) wanted to hurt him, he could have dove right into him."
Buffalo fans booed loudly when Gilmour took out Varada, as they did when Gilmour's name was announced as a starter.
After the play, Varada was called for charging, Gilmour for kneeing. Both were tossed.
Stars 5, Red Wings 3
Detroit Brett Hull's two assists were not enough to beat his former team as Dallas beat the Red Wings to snap Detroit's six-game winning streak. Donald Audette and Sergei Zubov had a goal and an assist apiece for the Stars, who won for just the second time in seven games. It was the first time Hull faced the Stars after playing with them the past three seasons and helping them win the 1999 Stanley Cup.
Panthers 3, Kings 2
Sunrise, Fla. Rookie Kristian Huselius and Jason Wiemer scored power-play goals 1:44 apart as Florida earned its first home win. Huselius and Wiemer each added an assist as the Panthers won for only the second time in 10 games. Roberto Luongo stopped 31 shots for Florida. Los Angeles is 1-3 on its six-game trip. Florida entered with a 0-3-0-1 home mark and a league-low four points.
Islanders 3, Hurricanes 2, OT
Raleigh, N.C. Mariusz Czerkawski scored a power-play goal with 1:59 left in overtime as New York beat Carolina to remain the NHL's only team without a regulation loss. Mark Parrish scored his NHL-leading 10th goal and Oleg Kvasha added another on the power play with 14:39 left in regulation as the Islanders rallied to tie it at 2-2.
Thrashers 1, Capitals 0
Atlanta Ilya Kovalchuk scored a power-play goal and Milan Hnilicka stopped 37 shots as Atlanta gained its first home victory of the season. Kovalchuk's goal, his fifth, came with 12:03 left in the third period, seven seconds after the Thrashers failed to score on a 5-on-3 advantage. Washington's Dainius Zubrus had just entered the Capitals' zone after leaving the penalty box when Kovalchuk scored.
Copyright 2018 The Associated Press. All rights reserved. This material may not be published, broadcast, rewritten or redistributed. We strive to uphold our values for every story published.