With Manhattan High leading Free State High 12-10 in the third game of their Class 6A state volleyball match Friday, Firebird junior Linsey Morningstar pulled Free State to within one point with a diving dig, exhibiting the desire of both teams to continue their seasons.
Unfortunately for the Firebirds, that was their next-to-last point.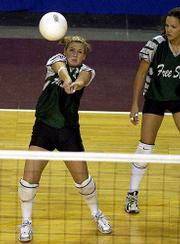 No. 2 seed Manhattan fought through 19 sideouts in the final 24 serves to pull out a 14-16, 15-5, 15-12 victory at the Kansas Expocentre.
"It was a dogfight," said FSHS coach Nancy Hopkins, whose team was seeded third. "Nobody was willing to give up that last point. Our kids have nothing to be ashamed of. They showed great heart and great fortitude down the home stretch. They should be, as I am, very proud of themselves."
Free State (24-11) led the Indians 10-5 in the first game before Manhattan grabbed a 13-12 lead, but the Firebirds fought back with tips by Gretchen Huffman and Kate Myrick and two Manhattan errors.
The Indians trounced Free State in the second game, scoring 14 of the final 16 points, including 10 straight points behind Lindsey Converse's serving.
"We were passing well but couldn't do anything with it," Hopkins said. "We were tipping too much and not hitting the ball real hard, and that one server just killed us."
Both teams fought valiantly in the third game. Manhattan took an early 6-2 lead but Free State fought back to 7-6 before both teams' defenses stepped up, forcing sideouts on 31 of the final 45 serves.
"We gave everything we had," senior Stephani Heider said. "We knew it was going to be tough and we weren't going to give up, not for one second. I'm so proud of the team and I think any of us would say the same."
Topeka Washburn Rural had given the Manhattan-Free State game added importance by beating both teams, forcing them to battle for the second spot in today's semifinals out of Pool B.
The Junior Blues defeated the Firebirds 15-2, 12-15, 15-7 in the first game of the tournament for both teams, and topped Manhattan, 13-15, 15-10, 15-11.
"It put the pressure on us," Hopkins said of the loss, "and it made us have to win the final two. I told them, 'Hey, this is your senior season for eight of them. Go out and have some fun.' I always try to stress fun and they always try to have fun because it's no fun to lose."
Free State had little trouble with the first of its final two games, topping Wichita Northwest, 15-10, 15-11.
Down 7-1, the Grizzlies scored nine straight to take a three-point lead, but Free State scored eight of the final nine points. The Firebirds closed the second game with an 8-0 run to set up the showdown against Manhattan.
The Indians will face Overland Park Aquinas, undefeated in Pool A play, in the semifinals at 2 p.m. today, while Topeka-Washburn Rural takes on Shawnee Mission North in the other semifinal. The winners will face off at 3:30 p.m. for the championship.
Copyright 2018 The Lawrence Journal-World. All rights reserved. This material may not be published, broadcast, rewritten or redistributed. We strive to uphold our values for every story published.