JACKSONVILLE, FLA. — Somewhere, there is an unwritten list of rules that no loyal Florida fan would ever think of breaking. Surely, playing football for Georgia is near the top.
And that leads to the story of Reid and Ryan Fleming, two brothers who grew up in the orange-and-blue embrace of a die-hard Gator family.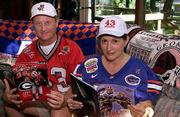 Reid did the sensible thing. He plays linebacker for Florida.
Ryan did the unthinkable. He plays linebacker for Georgia.
"I'll tell you," says their father, Robert Fleming, "it certainly is a unique situation."
The patriarch of this fractured family insists that with the Georgia-Florida game approaching today, this is no time to talk about civil war, the breakup of families or a son's betrayal. This is, after all, just football and, as Robert Fleming puts it, "anyone who has children knows that blood is thicker than water."
Then again, football is serious stuff in the South, and Georgia-Florida is about as serious as it gets.
It's a tale of tradition in which the pre-kickoff revelry The World's Largest Outdoor Cocktail Party has a history almost as deep and meaningful as the game itself. It's a meeting on the neutral turf of Jacksonville between two ancient, bitter rivals that dates to 1915 or 1904, if you're looking at Georgia's records. Indeed, these schools don't agree about much.
They certainly had different opinions about the Fleming boys.
It was Ryan Fleming who attended a Florida football camp one summer in high school, but didn't do much to catch Steve Spurrier's eye. The Gators never offered him a scholarship.
But Georgia did, and then the decision had to be made.
Ryan had always dreamed of playing in the Southeastern Conference. As a young boy, he had always grudgingly admired Herschel Walker, Garrison Hearst and the tradition the Bulldogs built, in part at the expense of his beloved Gators.
So he accepted the scholarship offer, traded in his Gator for a Bulldog, and broke the news to his folks.
"They were happy for me," Ryan Fleming said. "They wanted to me to go to an SEC school. They know Georgia has a great tradition. Of course, I'm sure they would have liked for me to go to Florida. But they wanted me to go where I fit in best."
Two years after Ryan left, Reid Fleming took the opposite route. Strangely enough, Reid attended a Georgia football camp, but wound up attending Florida.
"It was a weird deal," Reid said. "He chose that school, and I chose Florida."
"That school" has gotten the worst of it in the 11 seasons since Spurrier returned to coach the team he played quarterback for from 1964-66. The Gators are 10-1 against the Bulldogs with Spurrier as coach.
But old memories die hard for the old-time Florida alumni. Georgia owned this series through the 1960s, '70s and '80s, going 17-7-1 over the quarter century that Vince Dooley coached the Bulldogs.
Spurrier can still recall every loss. So can the Flemings.
The defeats made several of those five-hour drives back to Panama City seem a lot longer for Robert, his wife, Jan, and their sons.
"I remember a lot of games where Florida had the better team and didn't win," Robert Fleming said. "I was very frustrated for a lot of years."
And make no mistake, the Flemings are not just casual fans.
Robert Fleming's father started buying his season tickets about 50 years ago. The Flemings have sat in the same seats at Florida Field for practically every game since 1958. They are among the first big-time Gator boosters in the Florida Panhandle.
So it may feel strange when Robert and Jan walk into Alltel Stadium today and head toward their seats.
Georgia and Florida fans split the tickets down the middle for this game. One side of the stadium is covered in red and black, the other drenched in orange and blue.
Just as they did last year, Robert and Jan will take their seats on the Georgia side. That's a tribute to Ryan, who is a senior and playing in this rivalry for the final time.
Reid Fleming is only a sophomore.
"So by the time Reid graduates, we'll have sat in the Georgia side twice and the Florida side twice," Robert Fleming said.
Who will he cheer for?
Well, he is a Florida fan, and old habits are hard to break. Then again, he wouldn't mind seeing Ryan get an SEC championship ring, just like the one Reid flaunted when he brought it home last summer.
"Everyone asks me, 'Who are you pulling for, who are you pulling for?"' Robert Fleming said. "I tell them I'm totally impartial. I'm pulling for my sons."
Copyright 2018 The Associated Press. All rights reserved. This material may not be published, broadcast, rewritten or redistributed. We strive to uphold our values for every story published.