LINCOLN, NEB. — Eric Crouch knows everything he has accomplished as Nebraska's quarterback will mean less without a win over Oklahoma today.
The winner will once again be in command of the race for the national title, which is about all Crouch has left to accomplish.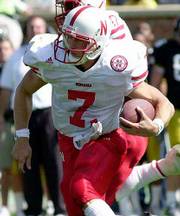 "It's been a goal that I'm faced with thinking about daily," Crouch said. "I know that you say it's missing on my resume. It'd be great to finish out my career with a Big 12 championship and a national championship."
The fact that he floundered a bit against the Sooners a year ago gives this game even more meaning for Crouch, an Omaha native who grew up watching the rivalry through the 1980s and early '90s.
The Sooners' 31-14 victory last year cost the Cornhuskers their No. 1 ranking and likely ended any Heisman Trophy hopes for Crouch.
"A lot of people have brought it to my attention more than I've thought about it. Once it's brought to my attention I try to blow it off," Crouch said. "It's just part of my personality. I'm not going to get caught up in how people felt I played."
Crouch finished with 101 rushing yards on 23 carries, but was just 12-for-27 passing for 133 yards with a costly interception that Derrick Straight returned 32 yards for the Sooners' only points in the second half.
Although Crouch knows that today's game between the No. 2 Sooners (7-0 overall, 3-0 Big 12) and third-ranked Huskers (8-0, 4-0) is a huge shot at redemption, he is focusing more on its national championship implications.
Oklahoma is on top of the Bowl Championship Series ratings, one spot ahead of the Huskers opposite what the standings were before last year's game.
"When you mention these two teams together, a lot of eyes get a little bit wider and a lot of heads turn. People kind of look up when they hear that," Crouch said. "It's something that's very exciting for this team and very exciting for this state, probably for this country."
Crouch is Nebraska's leader for rushing yards by a quarterback (3,096) and career total offense (7,053). His 14 rushing touchdowns are the most in NCAA Division I-A this season and he holds the national record for career rushing TDs by a quarterback with 55.
All this by a player who two years ago thought about quitting football when Bobby Newcombe was named the starter.
"I'm proud of myself for sticking through it and obviously accomplishing what I have, but I'm very aware that it just hasn't been Eric Crouch that has gotten me to where I am today," said Crouch, who took over for Newcombe two games into the 1999 season and has been the Husker offense's keystone since.
Oklahoma safety Roy Williams said the Sooners' defensive philosophy is simple: Stop Crouch.
"That's going to be a challenge for us because everyone knows he's a game-breaker," Williams said. "He's a talented player, he's going to make his plays.
"We know that we can't miss tackles on him and we can't overrun Crouch. He's a deadly weapon."
Copyright 2018 The Associated Press. All rights reserved. This material may not be published, broadcast, rewritten or redistributed. We strive to uphold our values for every story published.