Memories of teen-age friends LaTonya Farmer and Brandy Martin run deep.
A standing-room-only crowd of family and teachers gathered Friday for dedication of the Lawrence school district's new Even Start family literacy classroom in honor of the teens, who died of smoke inhalation in a 1993 arson fire.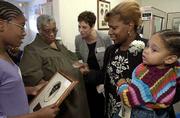 "It's not how long you live. It's how you live." said the Rev. Leo Barbee of Victory Bible Church, 1942 Mass.
Farmer and Martin spent their final evening together in a second-floor apartment on West 25th Street looking after Farmer's nieces, Dejanelle and Tiffany Lockette. They brushed the girls' hair before sending them off to bed Jan. 16.
About 2:30 a.m. Jan. 17, everyone in the apartment was awakened by screaming. The building was on fire. Smoke and heat blocked their exit.
Before being overcome by smoke, Farmer saved the Lockette girls by passing them out a window. Farmer died Jan. 17 at Lawrence Memorial Hospital. Martin survived until Jan. 18 at Children's Mercy Hospital in Kansas City, Mo.
In their brief lives, both made an impression.
"I hope I can, in my life, touch someone the way she did," said Sonia Farmer, LaTonya's sister and mother of the two children she saved.
At Friday's dedication, people recalled Farmer's love of music. She was a sophomore at Lawrence High School and died the same day she was to sing with a choir at a Martin Luther King Jr. celebration.
"I hope we don't look at the incident as a tragic event but as a positive event," Sonia Farmer said.
Lawrence philanthropist William Dann donated $50,000 to Even Start to make the tribute possible. He previously gave $200,000 to the Lawrence Schools Foundation for early-childhood programs in the public schools.
Dann said his latest gift was motivated by stories of the two promising lives cut short and a desire to remind folks the community's wealth was best measured by the way it treats its children.
"The little people are the most important people in society," Dann said.
Even Start, brought to Lawrence in 1993, integrates adult literacy instruction and early childhood education. While parents attend adult education classes, their children take infant/toddler and preschool classes.
Copyright 2018 The Lawrence Journal-World. All rights reserved. This material may not be published, broadcast, rewritten or redistributed. We strive to uphold our values for every story published.