Alese Graff, 12, isn't about to let worries of terrorist attacks, anthrax scares or an economic slowdown keep her from her No. 1 goal this Halloween season.
The fourth-grader at Pinckney School will dress up as a witch, grab a bag and hit the streets.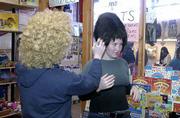 "Nobody's going to stop me from getting my candy," she said.
And she's not alone.
In a drive to shake the gloom of recent events, Americans are boosting their spending on the Halloween holiday this year, according to a national survey conducted this month by the International Mass Retail Assn.
The average consumer will spend $61 for costumes, candy and other Halloween goodies this season, the survey found, up from last year's $43.
"Americans are looking for a reason to have some fun in these trying times," said Robert Verdisco, the association's president. "This gives us all an excellent way to counter the real fears that the terrorists have tried to put in our hearts."
While overall sales are up at Fun & Games, 816 Mass., customer response to the Sept. 11 terrorist attacks on New York and Washington, D.C., have put the squeeze on patriotic supplies.
Manager Kyle Billings said he'd received repeated inquiries for Uncle Sam outfits, Statue of Liberty costumes and an array of otherwise red-white-and-blue accessories. But without time to order extras he put in for his costumes back in March he's watched a few sales slip away.
"I only ordered four children's fireman costumes, and I sold all those in September," he said Friday, busy filling requests for costumes in the back of the shop. "I could've sold 20."
Billings' situation is being repeated across the country, as costume companies struggle to accommodate customers' changing tastes, said Gregg Kearns, secretary-treasurer for the National Costumers Assn.
Gore-and-guts are out, he said, while nonviolent getups are making a comeback.
"It's kind of a good year when it goes back to the traditional stuff witches and pirates and draculas and princesses for the girls," said Kearns, who owns four costume shops in Ohio. "You can carry that stuff every year and not have to worry about being trendy. There wasn't anything to be hot this year anyway. There were no hot movies this summer."
At Sarah's Fabrics, 925 Mass., customers have focused less on gore and more, perhaps, on looking to score, said Kathy Barland, who runs the shop's costume-rental area.
"The girls tend to want to be a little more risqua little bit more way out there," Barland said. "Everybody's kind of realizing that a little something extra can make a ho-hum situation more fun."
At SuperTarget, boys are transforming into Superman and Batman, while girls are going for Barbies and "the pink Power Ranger," said Christina Thornton, the store's seasonal team leader.
"The kids' costumes are just flying," she said. "I can barely keep them on the shelves."
Costume sales are off a bit at Wal-Mart, but offerings such as the Crocodile Hunter are too hot to keep in stock, said Darian Childers, a clerk in the seasonal area.
Back at Fun & Games, Allison Mueller did her part to keep Halloween spending up. The Kansas University sophomore dropped $53 on a "tavern wench" costume for herself and a Jimi Hendrix wig for her boyfriend.
Mueller didn't mind cutting into her rent money for a little escape.
"Halloween's a fun time," she said. "It'll be worth it."
Copyright 2018 The Lawrence Journal-World. All rights reserved. This material may not be published, broadcast, rewritten or redistributed. We strive to uphold our values for every story published.