Andrew Bailey loves his school and his country, too.
Andrew, a 17-year-old senior at Lawrence High School, recently came up with the idea to create T-shirts that combine school spirit and patriotism, and then sell the shirts at LHS as a fund-raiser for the Salvation Army, 946 N.H.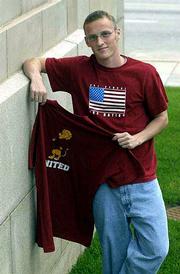 The red shirts feature an American flag on the front, with the words "One School" and "One Nation."
On the backside is the Chesty Lion, the school's mascot, and the word "United."
Andrew, who did the design for the shirts himself, had about 175 of them printed at Midwest Graphics, 800 N.H.
The shirts, which sell for $10 apiece, went on sale Oct. 16 at the high school and are a hot item. Some sizes of the shirts have already sold out, and more are being printed.
"I think (the shirts) are just a way to bring everybody together in support of our country and everything that's going on right now, following the terrorist attacks," Andrew said.
The shirts were also intended to promote Spirit Week at LHS in the days that led up to Friday's big football game against Free State High School. Free State won the game, 16-0.
Copyright 2018 The Lawrence Journal-World. All rights reserved. This material may not be published, broadcast, rewritten or redistributed. We strive to uphold our values for every story published.