The events of Sept. 11 and the subsequent military action in Afghanistan are hitting home for Lawrence teens.
"It was hard to believe until I saw it," said Lawrence High School senior Justin Davis.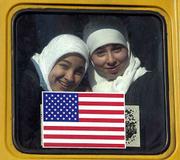 LHS senior Rob Scott added: "I did not believe that it was real."
Most Lawrence students were in class when the news broke and first heard about the attacks on New York City and the Pentagon through schoolwide announcements.
LHS senior Mike Powell describes his first feelings as "shock and then a bit of anger, (and) looking for someone to blame."
It didn't take long for students to realize that the attacks would directly affect them. Many had friends or family who lived or worked in one of the areas of the crashes, or were traveling that day.
"I was really upset because it was a family issue," said LHS senior Ashley Crowder. "My uncle works in New York and thankfully he was unharmed."
But whether they knew someone from New York or not, the issue was personal.
"I wondered if I was safe," said LHS senior David Parkinson.
Government in action
Student reaction to the U.S. government's actions since the attacks is largely supportive.
LHS senior Spencer Wilson sees this recognition of Bush and his government as vital.
"I support the president and the majority of the decisions he makes," Wilson said. "I feel that it is especially important at times like these that we all rally around (President Bush) and give him our support. Our government should be and is acting as one unified body."
However, students are still concerned with the ultimate outcome.
"I think there is too heavy an emphasis on war we need to be focusing on peaceful alternatives," said LHS junior Haley Smith.
In the news
The media's sensitive coverage of the victims of the attacks won praise from students, but some are frustrated by the constant repetition of some images.
"I feel as if I became immune to the pictures of the World Trade Center," said LHS sophomore Katie Franz.
"I think the media have been a little focused on revenge and kindling the American anger," senior Michael Powell said.
Scott agreed.
"I really did not like how they showed (foreign) people celebrating," Scott said. "The way the media used propaganda to add fuel to the Americans' fire was not something I agreed with."
Crowder was the most critical, saying that "our media is too concerned with profit."
Equity was also important to students.
"The media should probably be covering both sides so as a country we truly understand what is truly happening," Powell said.
Red, white and blue
Almost all students remarked on the surge of patriotism. This was viewed positively when expressed in an appropriate manner.
"Flags are flying, people are working together, and the patriotic idea of God and country has been redefined," Wilson said.
T-shirts, flags and anything else with the American flag have been flying off the shelves since the attacks.
"Until (Sept. 11) it seemed as though our nation was lacking a sense of pride and unity, one which has been missing for several years now," Wilson said.
McCrory worries, though, that not enough will be done.
"Patriotism is good, but today's Americans don't know how to show it other than putting up a flag," he said.
Several students worried that patriotism would be carried too far, and that Americans would become victims of their own zealousness.
"I stand so strongly against hypernationalism because I've seen what results from it," said LHS senior Josh Massoni. "I've seen Muslim friends of mine receive death threats."
Smith added that "the mass conviction of Arab-American men and racial profiling, especially at airports, concerns me greatly."
The draft
One way in which young people are especially affected is the draft. In the days following the attacks, people began to question whether it would be reinstated to bolster the already low military recruiting and morale. The Selective Service Act requires young men to register for the draft before or just after their 18th birthday.
Scott had already registered for the draft by Sept. 11. He realizes his country may call him into combat duty.
"I will if I have to," he said.
Crowder called the recent military action in Afghanistan "supported and expected."
"My dad is in the Navy and if he was still on his ship, he would be over there right now fighting," Powell said.
A few students voiced doubt about service in the military, and plan instead to register as conscientious objectors who oppose war and personal participation
in armed combat. Two Web sites www.objector.org/ and www.nisbco.org/ give information on the process for becoming a conscientious objector.
But some hope that issues can be resolved off the battlefields.
"There is always another way to solve a problem," Franz said.
Smith cited a quote from Mahatma Ghandi: "An eye for an eye only makes the whole world blind."
---
Rebekah Zemansky is a senior at Lawrence High School.