Five years ago, Lawrence Memorial Hospital wrote off $500,000 in charity care.
This year, care for the area's uninsured is expected to cost the hospital more than $2 million.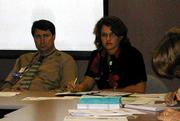 "This is especially alarming," said Simon Scholtz, LMH vice president and chief financial officer.
Scholtz is part of a 20-member committee exploring whether Health Care Access, the area's health-care clinic for the uninsured, could or should do more to offset the hospital's losses.
Seven members were present as the committee met for the first time Tuesday.
Recent surveys show that in Douglas County, 9.3 percent of the population is uninsured. Of this group, about 10 percent are seen at Health Care Access, 1920 Moodie Road.
Despite efforts to steer the uninsured toward Health Care Access, the numbers of patients seen at the clinic have shown only modest increases since 1997. The clinic's services are often touted as some of the best in the state.
Pat Parker, president of the Health Care Access governing board, said he and others now are torn between the need for the clinic to do more and the risk of overextending itself.
"We're looking for guidance," he said. "This isn't a hospital issue, and it's not a Health Care Access issue. It's a societal problem that, one way or another, we're going to have to take on as a community."
Parker is also director of pharmacy, IV and oncology services at LMH.
To get the community more involved, former Douglas County Commissioner Mark Buhler encouraged both the hospital and Health Care Access to do more to alert the public to the problem.
"The perception that the hospital is hurting is not out there," Buhler said. "People are going to have to be educated."
The Long Range Planning Committee meets again Nov. 27.
Copyright 2018 The Lawrence Journal-World. All rights reserved. This material may not be published, broadcast, rewritten or redistributed. We strive to uphold our values for every story published.