Los Angeles — In World War II, James Stewart and Clark Gable flew bombing missions, John Ford, Frank Capra and John Huston made military documentaries, and studios churned out morale-boosting films for the home front.
During Vietnam, Jane Fonda went to Hanoi, Robert Altman used the Korean War as the arena for his anti-Vietnam film "MASH", and anti-hero movies such as "Easy Rider" and "Midnight Cowboy" became beacons of American unrest.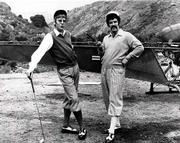 Always a cultural barometer, Hollywood has responded only in small ways so far to the terrorist attacks on the World Trade Center and Pentagon. Studios have delayed touchy films, producers have shelved terrorism projects, celebrities have raised money for victims.
It will likely take years before Hollywood films deals meaningfully with recent events.
"There is such a gigantic sadness connected to what happened on Sept. 11 that movies about it would be difficult for a filmmaker to stomach now," said Rod Lurie, director of "The Last Castle," a military-prison drama that opened Friday. "I think it will take a while and a lot of distance. It may take a decade."
Drama and commentary
After Pearl Harbor, an immediate reaction in Hollywood was to churn out combat dramas as propaganda depicting the U.S. entry into the war as a noble cause. More definitive films that put a human face on World War II appeared late in the war and in the years after with "The Story of G.I. Joe," "The Sands of Iwo Jima," "Twelve O'Clock High" and the homecoming drama "The Best Years of Our Lives."
Hollywood barely touched Vietnam during the war itself, turning out only one notable film, John Wayne's woeful "The Green Berets," with its infamous ending gaffe in which the sun sets in the east.
But as Vietnam triggered anti-war protests, filmmakers such as Mike Nichols with "Catch-22" and Altman with "MASH" used past wars to make topical satires. Altman notes he deliberately omitted references to the Korean War in "MASH," which he meant as a condemnation of the Vietnam War.
"If you look at that film, there's no mention of what war it is," said Altman, adding that the studio made him put a disclaimer at the beginning that "MASH" was set in Korea. "If you ask people now what 'MASH' was about, 75 to 80 percent would say it was Vietnam."
Fonda was reviled by many Americans for visiting Hanoi in 1972, and she salted the wound several years later by winning her second Oscar for "Coming Home," about a disabled Vietnam vet. In 1988, she apologized to veterans for some of her actions during the Hanoi trip.
"Coming Home" was among a crop of provocative Vietnam movies that appeared in the late 1970s, including "The Deer Hunter," "Go Tell the Spartans," "The Boys in Company C" and "Apocalypse Now." Another surge came in the 1980s with Stanley Kubrick's "Full Metal Jacket" and Oliver Stone's "Platoon" and "Born on the Fourth of July."
Similarly, the first major conflict of the film age, World War I, was not examined seriously on film until years afterward. Cheerleading patriotic movies were made during the war. Not until the 1920s and 1930s did probing World War I films emerge, including "The Big Parade" and "All Quiet on the Western Front."
Maverick filmmaker Samuel Fuller produced the challenging Korean War examinations "The Steel Helmet" and "Fixed Bayonets" during the conflict. But it was years before mainstream films such as "Pork Chop Hill" and "The Bridges at Toko-Ri" seriously tackled that war.
A handful of movies have been set in the Persian Gulf War, most notably "Courage Under Fire" and "Three Kings."
Reaction, not action
Now, if Hollywood wanted to explore the Sept. 11 terrorist attacks in a movie, it would take a long time. In today's sluggish industry, substantive films can take two years or more from conception to release. Projects could be quickly outdated.
"Hollywood, just like the book-publishing world, is at a standstill," said Frank McAdams, author of "The American War Film: History and Hollywood," a book due out next spring. "They're just scratching their heads about what they're going to do."
Television can respond rapidly. "The West Wing" aired an episode about the White House dealing with a terrorism crisis, a show written and shot in the three weeks after the attacks.
So far, however, movies and television have responded mainly by postponing or editing some projects. Arnold Schwarzenegger's terrorism film "Collateral Damage," due in theaters this month, was delayed indefinitely. So was an episode of CBS' new spy series "The Agency." Trade center images were cut from the film comedy "Serendipity" and an episode of TV's "Law & Order: Special Victims Unit."
"Nobody wants a film that even shows a picture of the trade center," said Howard Suber, a film historian at the University of California, Los Angeles. "That's like showing pictures of the dead to the grieving widow."
Copyright 2017 The Associated Press. All rights reserved. This material may not be published, broadcast, rewritten or redistributed. We strive to uphold our values for every story published.