The bitter winter of 2000-2001 taught a lesson to those who run the Community Drop-In Center.
"There's something," said board member Dan Gardner, "about clean, dry socks."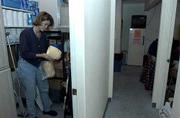 Too many homeless people, he said, walk around Lawrence during the winter miserable in cold, wet socks.
"It's one thing we don't get donations of very often," said Tami Clark, the center's director. "When we get them, they're gone in minutes."
The organizations that serve Lawrence's homeless population are thinking about socks as well as blankets, gloves, coffee and other items as the weather turns cooler and winter lurks around the corner.
With overnight temperatures dropping regularly into the 30s, officials say, a greater number of homeless people are trying to find ways to come in from the cold.
"We're seeing people longer, staying in out of the cold," said Clark, whose organization is open weekday mornings.
Community Drop-In Center, 214 W. 10th St., 832-8864.Lawrence Interdenomination Nutritional Kitchen, 221 W. 10th St., 331-3663.The Salvation Army, 946 N.H., 843-4188.
People who don't normally use services for the homeless change their minds when the temperature drops.
"We have people who have been camping out for weeks that we're starting to see again," Gardner said.
The Salvation Army, which runs a seasonal overnight shelter at 946 N.H., is already seeing more than 40 people a night. Capt. Kirk Schuetz said that started even before the temperature dropped.
"The shelter's been so full," Schuetz said. "People want to get out of the weather anyway."
Billy Collette, who runs the Lawrence Interdenominational Nutritional Kitchen, said LINK has been busier than ever, serving more than 110 people at every meal. Cool weather is starting to make a difference.
"People come in earlier, and they leave later," he said. "And they drink lots more coffee."
So officials are preparing for winter.
"We stock up on blankets during the summer and fall," Clark said. "Now that it's getting cooler, people need blankets, sleeping bags, coats, gloves and hats."
Schuetz said the shelter can use blankets, underwear (including children's sizes) and sweats for people to wear while washing their clothes.
Collette said LINK can always use food donations.
"In the wintertime, appetites build," he said. "So we need more food."
Copyright 2018 The Lawrence Journal-World. All rights reserved. This material may not be published, broadcast, rewritten or redistributed. We strive to uphold our values for every story published.