Just about the only thing not energy-efficient in Tom and Linda McCoy's Leavenworth County home is the ice maker in their freezer.
Tom McCoy, a recently retired Kansas University architecture professor who taught courses in "green" architecture and design, almost growls when he talks about it.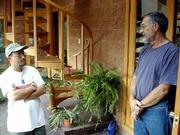 "Other than that ice maker, it's very silent in this house," he said.
The McCoy's home, nestled in a picturesque hillside for protection from temperature extremes and designed with a southern-exposed greenhouse for solar heat gain, was one of six area houses on Sunday's self-guided Heartland Sustainable Homes Tour.
Held in conjunction with Lawrence's Home Energy Conservation Fair, the tour invited the public to take a firsthand look at homes that make use of energy-efficient construction, green building materials and practices as well as solar and wind technologies.
Brick floors and thick concrete walls in the McCoy's greenhouse and living room area absorb solar heat, which is then transferred throughout the house as needed. Solar collectors on the garage roof heat well water for year-round use.
Lawrence resident Al Spencer, who toured the McCoy's home Sunday afternoon with his family, said curiosity inspired him to check out the unique houses on the tour.
"We're dreaming about maybe doing some of this stuff in the future," he said.
Other homes on the tour touted straw-bale construction, radiant floor heat and inventive material reuse.
Dave Pratt, president of Heartland Renewable Energy Society, an organization based in Missouri, said he expected about 100 people to take the tour.
"This is one of our major public education events," he said. "We want people to put a little bit of thought into materials and orientation. It saves money; it saves energy; it saves the environment."
This was the tour's second year in the Lawrence area, and organizers hope to make it an annual event.
"We have the idea that Lawrence is sort of a unique and unusual place," said Bruce Plenk, chairman of the city's Recycling and Resource Conservation Advisory Board. "We should be a trend setter."
Copyright 2018 The Lawrence Journal-World. All rights reserved. This material may not be published, broadcast, rewritten or redistributed. We strive to uphold our values for every story published.