Without DCCCA, Tonya Daniels is sure her sister's children three boys and a girl would be in foster homes. Instead, they're with her.
"DCCCA is great," Daniels said. "I would not have been able to hold this family together if it wasn't for them."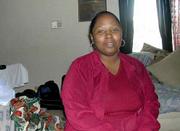 Seven months ago, Daniels was a single, working mother rearing her 15- and 8-year-old daughters when a policeman knocked on the door of her two-bedroom apartment near 25th and Iowa. Her 33-year-old sister had been arrested.
The policeman asked if Daniels would take in her sister's children, ages 15, 12, 10 and 8. She said she would.
Three days later, a social worker with the Department of Social and Rehabilitation Services said if Daniels wasn't willing to keep the kids, they'd be put in foster homes. But if she was, DCCCA would be there to help.
She kept the kids.
"It was crazy," Daniels said. "One day I'm sitting here in my little apartment, raising my two kids, making $8 an hour I'm doing OK. And then all of sudden, I've got six kids on my hands."
DCCCA workers, she said, found her a car that runs and helped with the rent and utilities. When she needs them, they're always there.
"I've had to call DCCCA many times on the 20th of month that's about when the food stamps run out and say 'I have 6 bucks in my pocket, and we have no food.' And they'll bring us a box of food," Daniels said.
"You know, I don't mind doing this I love these kids but I didn't know how stressful it would be."
This summer, Daniels' sister was sentenced to eight to 10 years in prison for robbery.
If her sister's children had to be put in foster care, SRS would have paid the region's foster care contractor, Kaw Valley Center, more than $8,500 a month for their care.
Aside from $315 a month in food stamps, neither DCCCA nor SRS pay Daniels for rearing her sister's children.
Copyright 2018 The Lawrence Journal-World. All rights reserved. This material may not be published, broadcast, rewritten or redistributed. We strive to uphold our values for every story published.