Miami — The small home where Elian Gonzalez lived while at the center of an international custody battle opened Sunday as a shrine to honor him.
Elian's wooden swingset and a picture of his mother, Elisabeth Brotons, who died while trying to bring him to the United States, greeted nearly 500 people who passed through the front door of Unidos en Casa Elian, or United in Elian House.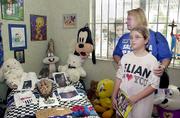 Delfin Gonzalez, the boy's great-uncle and the Little Havana home's owner, said some people might not agree with opening the shrine shortly after last month's terrorist attacks, or even having a site dedicated to the boy. But he said it filled a need in the community.
"For the people that don't care, this might not be of any significance," said Gonzalez, 67.
The home includes four bicycles and the red, yellow and purple pedal car Elian rode around the front yard. His black and blue inline roller skates, a purple stuffed Barney the Dinosaur and red and yellow plastic trucks and planes lined shelves in the living room.
Providing a backdrop for the toys were hundreds of photos, some of the boy playing on his swingset, swimming in a wading pool and smiling from underneath a festive hat.
For several months following Elian's rescue 2 miles off Fort Lauderdale on Thanksgiving Day 1999, the home was the scene of protests against Cuba and in favor of keeping Elian in Miami.
The home was raided by U.S. Border Patrol agents on April 22, 2000, and Elian was eventually reunited with his Cuban father. Two months later, they returned to Cuba.
In Elian's bedroom, Spiderman pajamas lay on his race-car shaped bed, topped by a black-and-white checkered comforter.
The back room from which authorities took Elian in the pre-dawn raid included an Associated Press photograph of Elian and the fisherman who rescued him being confronted by an armed federal agent.
Several of Elian's Miami relatives and friends attended the opening, including a teary-eyed Lazaro Gonzalez, Elian's great-uncle and former guardian; Armando Gutierrez, formerly a family spokesman, and Marisleysis Gonzalez, Elian's cousin.
Delfin Gonzalez bought the home November 2000 and converted it into a shrine, free to the public.
"I'm very satisfied," he said. "I'm happy to serve and that people can come and look and go through memories of when Elian was here."
Some visitors were moved to tears.
"To us, this day was almost equivalent to the Twin Towers day," said Deyanira Solis, referring to the Sept. 11 terrorist attacks. "My heart has been bleeding ever since for that little boy."
Copyright 2018 The Associated Press. All rights reserved. This material may not be published, broadcast, rewritten or redistributed. We strive to uphold our values for every story published.