Indianapolis — David Patten did anything and everything the New England Patriots needed. His performance was unlike any other in the NFL in exactly 22 years.
Patten became the first player since Walter Payton in 1979 to run, catch and pass for touchdowns in the same game, helping the Patriots beat the Indianapolis Colts 38-17 on Sunday.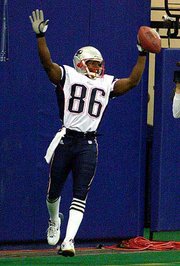 Quarterback Tom Brady, filling in for the injured Drew Bledsoe, won for the third time in four starts and the New England defense stopped Indianapolis' high-powered offense when it mattered.
Still, the day belonged to Patten.
"Every time I touched the ball, I was able to make something happen," said Patten, who accounted for four of the Patriots' five touchdowns. "That's what I pride myself on. I think I'm able to do that every time I go on the field and today I made that happen."
He seemed the unlikeliest of heroes after playing little more than his role as part of the Patriots' supporting cast in the first five weeks.
On Sunday, he played more because receiver Terry Glenn was out with a hamstring injury, and he was better than anyone could have imagined.
He ran 29 yards for a touchdown on the Patriots' first offensive play, threw a 60-yard TD pass to Troy Brown and caught two touchdown passes himself, including a 91-yarder the longest play from scrimmage in team history. The Patriots (3-3) won for the third time in four games and swept the Colts for the season.
Patten finished with four receptions for 117 yards and the two TDs.
Payton, the Chicago Bears' Hall of Famer, scored touchdowns by running, passing and throwing on Oct. 21, 1979, against the Minnesota Vikings.
Brady, who replaced Bledsoe four weeks ago, was almost as impressive as Patten. He was 16-of-20 for 202 yards with three touchdowns.
Bledsoe hasn't played since a hard hit by Mo Lewis of the New York Jets on Sept. 23 caused bleeding in his chest, but the Patriots have lost just once in his absence. It's unclear when Bledsoe will return.
The Patriots had 385 yards in total offense and at one juncture, had 31 points while running just 29 offensive plays.
"It's about going out and executing our plays," Brady said. "We executed them today."
The Colts (2-3) struggled for the second time in four weeks against the Patriots, who beat them 44-13 on Sept. 30.
Right away it was clear it was not the Colts' day the scoreboard didn't work at the start of the game.
In the first half alone, Mike Vanderjagt had two field-goal attempts blocked, Peyton Manning was sacked three times, and defensive back David Macklin was beaten on consecutive plays for touchdown passes of 91 yards and 60 yards.
Not even good performances from the Colts' three offensive stars could offset that.
Manning completed 22 of 34 passes for 335 yards and a touchdown, Edgerrin James ran 30 times for 143 yards, and Marvin Harrison caught eight passes for 157 yards, including a 2-yard TD pass. But it wasn't enough.
"It started out bad with the blocked field goal and it didn't get a whole lot better," Colts coach Jim Mora said.
The block, by Brandon Mitchell on the Colts' first possession, was returned to the Indianapolis 29 by Leonard Myers and set up Patten's touchdown run.
After a 42-yard field goal, the Patriots really got going on offense.
Brady connected with Patten on a 91-yard TD pass. On New England's next offensive play, Patten threw his 60-yard touchdown pass to Brown, making it 21-3 midway through the second quarter. Brown finished with eight receptions for 120 yards.
Rams 34, Jets 14
East Rutherford, N.J. Trung Canidate scored twice and accounted for 232 yards, helping St. Louis remain the NFL's only unbeaten team. St. Louis is only the second NFL team to start three straight seasons with six victories. The 1929-31 Green Bay Packers had the only other such streak.
Canidate replaced Marshall Faulk, last season's Most Valuable Player, who bruised his right knee a week ago and was inactive for Sunday's game after saying during the week he might be able to play against the Jets (3-3).
The Rams and Canidate did just fine without him. Canidate rushed for 195 yards on 23 carries and added three receptions for 37 yards.
Browns 24, Ravens 14
Cleveland Tim Couch threw two quick touchdown passes in the third quarter as Cleveland beat Baltimore for the first time since returning to the league.
Cleveland's defense forced three turnovers, had seven sacks and dominated the Super Bowl champion Ravens (3-3), who are a shell of the team whose defense dominated the NFL last season.
The Browns (4-2) were 0-4 and outscored 116-26 since '99 against the Ravens and owner Art Modell, who broke Cleveland's collective heart when he moved his franchise to Baltimore following the 1995 season.
Couch was 11-of-18 for 149 yards and rookie James Jackson rushed for 77 yards and one TD for the Browns, whose biggest win in three years will be followed by an off week.
Baltimore's Matt Stover set an NFL record by making a field goal for the 32nd straight game but that was the lone bright spot for the Ravens, whose defense has given up 55 points the past two weeks after allowing 165 all last season.
Bears 24, Bengals 0
Cincinnati Anthony Thomas ran for a team rookie-record 188 yards and a touchdown as Chicago won its fourth straight game.
The Bears (4-1) are on their longest winning streak since 1995, the last time they made the playoffs. They're off to their best start since 1991, when they finished 11-5.
Thomas, a second-round draft pick who had not run for more than 58 yards in a game, darted through big holes on his 22 carries and wound up with the eighth-best rushing game in Bears history.
Steelers 17, Buccaneers 10
Tampa, Fla. Jerome Bettis threw a 32-yard touchdown pass on a halfback option and ran for 143 yards and a TD as Pittsburgh dominated Tampa Bay for its fourth win in a row.
The Steelers' top-ranked defense sacked Brad Johnson 10 times and intercepted one of his passes in the end zone.
The Bucs (2-3) scored on Johnson's 5-yard pass to Frank Murphy with 28 seconds remaining, then appeared to recover an onside kick at their 43 to give themselves another chance to come back.
The officials ruled that Tampa Bay's Brian Kelly leaped into the air and came down with the ball before it squirted loose when he landed on the ground.
The ruling was reversed after it was reviewed on instant replay and the Steelers (4-1) ran out the clock to stay atop the AFC Central standings with their best start since 1996.
Falcons 20, Saints 13
New Orleans Chris Chandler threw touchdown passes of 57 and 39 yards to lead Atlanta.
The Saints (3-2), who had the NFL's fourth-ranked defense coming into the game, allowed 297 yards, 124 on the ground.
Atlanta (3-3), loser of two straight after Jamal Anderson was lost for the season, seems to have found a replacement in Maurice Smith, who gained 83 yards on 22 carries against New Orleans.
Chandler completed 14 of 20 passes for 187 yards. He was sacked twice and threw one interception.
Redskins 17, Panthers 14, OT
Landover, Md. Brett Conway kicked a 23-yard field goal 1:52 into overtime to give coach Marty Schottenheimer his first victory with Washington.
The Redskins (1-5) twice believed they had won the game before they really did. Conway thought his 32-yard field goal with 36 seconds left in regulation was good it was ruled wide right and rookie Rod Gardner had a touchdown catch in overtime overturned when it was ruled that he was down by contact at the Panthers' 5-yard line. Conway kicked the game-winner on the next play.
With Washington trailing 14-0, LaVar Arrington's 67-yard interception return with 10:10 to play got the Redskins going, and Gardner caught an 85-yard touchdown pass on Washington's next offensive play to tie the score with 7:25 left. Suddenly, in a three-minute span, the Redskins had more points than they had scored in any game all season.
The Panthers (1-5) have lost five straight and were beaten on the last play of the game for the second consecutive week. It probably won't get any easier.
Titans 27, Lions 24
Pontiac, Mich. Joe Nedney kicked four field goals, including from 46 yards with five seconds left, for Tennessee.
Titans quarterback Steve McNair's 22-yard run set up the game-winning kick after Detroit (0-5) tied the game 24-all with 1:18 left. Tennessee has won two straight after starting the season 0-3.
Detroit, meanwhile, is off to its worst start since 1989, and a loss to Cincinnati at home next week would drop the Lions to 0-6 for the first time since 1955.
Vikings 35, Packers 13
Minneapolis Brett Favre threw for only 169 yards against Minnesota's poor pass defense a week after shredding one of the NFL's top Ds, while counterpart Daunte Culpepper threw for one score and ran for another to lead the Vikings.
It was the Packers' worst regular season loss in eight years.
Minnesota (3-3), which entered the game ranked 29th in the league against the pass, won for the eighth time in its last 10 home games against Green Bay (4-2).
Favre completed 21 of 35 passes with two touchdowns and an interception. Most of the yards, though, came in the fourth quarter with Green Bay far behind.
Chargers 27, Broncos 10
San Diego San Diego forced two turnovers in Denver territory in the second half, both setting up touchdown passes from Doug Flutie to Jeff Graham.
Chargers linebacker Junior Seau went out with a strained groin in the first half and didn't return.
The Chargers were leading 13-10 when Seau's replacement, rookie linebacker Zeke Moreno, forced a fumble by Mike Anderson and San Diego safety Jason Perry recovered at the Denver 33. Four plays later, Flutie hit Graham on a 17-yard touchdown pass for a 20-10 lead with 2:17 left in the third quarter.
Early in the fourth quarter, defensive end Marcellus Wiley tipped a pass by Brian Griese, and Al Fontenot intercepted at the 38. Five plays later, Graham got behind second-year cornerback Deltha O'Neal for a 20-yard TD catch.
The Chargers began the season 3-0 but then lost two straight, blowing leads late in the fourth quarter both times. With the victory, they're 4-2 and a half game behind idle division leader Oakland.
Copyright 2017 The Associated Press. All rights reserved. This material may not be published, broadcast, rewritten or redistributed. We strive to uphold our values for every story published.