New York — In one of the grittiest, yet wildest, postseason games ever, Alfonso Soriano hit a two-run homer in the bottom of the ninth inning to give the New York Yankees a 3-1 victory over Seattle on Sunday night and move them a win from their fourth straight trip to the World Series.
After Seattle's Bret Boone broke up a scoreless game with an eighth-inning homer off Ramiro Mendoza, Bernie Williams answered with a drive off Arthur Rhodes in the bottom half.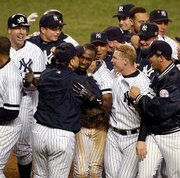 Soriano, the rookie second baseman who broke into a lineup of veterans, homered off Kazuhiro Sasaki with one out in the ninth, giving the Yankees a 3-1 lead over the Mariners in the best-of-seven AL championship series.
"I think we're just blessed," Williams said. "It has taken a lot of work. It has a lot to do with the attitude of this club."
Roger Clemens and Paul Abbott reunited in a rematch of last year's Game 4. Clemens allowed one hit, just like he did last year, but Abbott pitched hitless ball.
But, because of their wildness, both were pulled after the fifth inning. Abbott walked eight, one short of the ALCS record.
It then came down to a battle of the bullpens and the Yankees prevailed.
Soriano's home run, which sailed to right-center field over Mike Cameron's attempt at a leaping catch, was the fourth game-winning home run for the Yankees in ALCS play.
Chris Chambliss hit a series-winner against Kansas City in 1996, and Williams had game-ending homers against Baltimore in 1996 and Boston in 1999.
There were just two hits in the game before the drive over Death Valley by Boone, who had five RBIs Saturday in Seattle's 14-3 rout. Left fielder Chuck Knoblauch kept going back but the ball, caught in a stiff wind, kept on going.
"He hits that home run in that situation, the job our bullpen has done all year, you can put it in the bank," Abbott said.
Williams sliced an opposite-field drive just foul down the right field line, then popped a home run over the right-field wall, with outfielder Ichiro Suzuki smacking into the fence as he ran out of room.
"I thought it was a popup," Abbott said.
After Mariano Rivera pitched a 1-2-3 ninth throwing just three pitches New York won it in the bottom half.
Scott Brosius, whose two-run double propelled the Yankees to their Game 2 win, reached on an infield single with one out. Shortstop Mark McLemore made a diving stop on the ball up the middle but his throw pulled first baseman John Olerud off the bag.
Soriano was criticized by the Yankees after Game 1 for failing to run out a ball he thought was a home run and then getting only to first base when it hit off the wall. This time, the ball made it over the wall, and Yankee Stadium rocked as fans jumped up and down.
"I don't know if you can get any higher than this," Yankees manager Joe Torre said. "We're going to have to calm down for a game tomorrow."
Andy Pettitte will try to close it out tonight for New York against Aaron Sele in a rematch of Game 1 starters. The three-time defending World Series champions are trying to become the first team to win four straight pennants since they did it from 1960-64.
It forced a series of must-win games for Seattle, which tied the regular-season record of 116 wins but now must win three straight to reach its first World Series.
New York stranded eight runners over the first seven innings, going 0-for-6 with runners in scoring position. Seattle went 0-for-3 with runners in scoring position and left six on base.
Abbott stranded runners on first and second in the third, fourth and fifth innings. Nearly half of Abbott's pitches were out of the strike zone: 48 balls and 49 strikes.
Clemens, winless in three postseason starts this year while pitching with an injured hamstring, was wildly inconsistent, his splitter either diving down for strikes or sailing high for balls.
Seattle's bullpen got in and out of trouble in the sixth when Tino Martinez blooped a one-out opposite-field double to left off Norm Charlton the Yankees' first hit of the game.
Jorge Posada was intentionally walked and Seattle brought in Jeff Nelson, an integral part of the Yankees' championship run before signing with the Mariners after last season.
Shane Spencer, 2-for-2 against Nelson in his career, pinch hit for Paul O'Neill and walked, before Brosius hit into an inning-ending double play.
Notes: Paul McCartney, watching from the front row behind home plate, was shown on the scoreboard singing along to the Beatles' song "I Saw Her Standing There." ... The postseason record of 10 walks was set by the Yankees' Bill Bevens in losing a one-hitter to Brooklyn 3-2 in Game 4 of the 1947 World Series. ... The previous LCS record for walks by both teams in a game was 14 by Oakland and Baltimore in Cuellar's 1974 outing.
Copyright 2018 The Associated Press. All rights reserved. This material may not be published, broadcast, rewritten or redistributed. We strive to uphold our values for every story published.