If terrorists spray hazardous chemicals over a city, Jerry Dobson can tell you how many people it will affect.
Dobson, a Kansas University adjunct professor of geography and researcher in the Kansas Applied Remote Sensing Program, helped design LandScan 2000, a database that combines Census data with other information to give officials a good idea how many people live in a square kilometer anywhere in the world.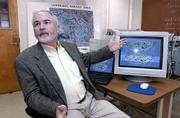 In the United States, it's even more detailed.
While the database had a variety of uses before, it's sparked new interest since the Sept. 11 terrorist attacks.
"What we're facing here is global threats at local places," Dobson said. "We have to know information on local places in great detail."
He started the project in 1997 with two colleagues from the Oak Ridge National Laboratory, Oak Ridge, Tenn., where he worked for 26 years before coming to KU in August. The U.S. Department of Defense contracted with the scientists to complete the database, then called LandScan 1998.
Past uses of the LandScan database include:Tracking refugees from Kosovo in 1998.Determining where relief aid should be sent during the flooding in Mozambique in 2000.Determining the best locations to place cellular phone towers.
"They wanted it for terrorism, natural disasters, warfare anything that happens to involve the safety of large numbers of people," Dobson said.
The database, which was updated in 2000, combines Census data, elevation, terrain, roads, satellite photos of nighttime lights and other information. It's already used by the United Nations, the World Health Organization and the U.S. State and Defense departments.
Given the current state of world events, Dobson said possible applications seem limitless.
For instance, emergency personnel could predict how many doctors would be needed to treat victims during a crisis. Or they could predict where a plume of hazardous material would travel and whom it would affect.
Database maps also could help track whether an outbreak of an infectious disease is natural or caused by terrorists.
The database may be useful in tracking movement of refugees, using satellite imaging and data provided by news and humanitarian agencies, Dobson said.
Dobson traveled Friday to Atlanta to tell officials at the Centers for Disease Control and Prevention about LandScan. He's seeking grant money to incorporate more demographic data into the database, which could help emergency officials predict the spread of infectious diseases.
For instance, he said, some diseases spread more quickly among a particular gender or among people in certain age ranges.
Dobson also is seeking grant money to develop daytime population estimates for large cities. Because Census data lists home addresses, it's difficult to determine where people are during the day. Dobson has designed a prototype design using Houston.
"In all my work I've never had a project that made me feel as good as this one because I know we're saving lives," he said.
Copyright 2018 The Lawrence Journal-World. All rights reserved. This material may not be published, broadcast, rewritten or redistributed. We strive to uphold our values for every story published.