First, the economy sank Dick Magner's company and took his telecommunications jobs. Now it's threatening his health.
Magner's medical coverage, one of the benefits his employer provided, expired in September. And with questions about when or whether he'll get new health insurance, the soft-spoken electronics engineer faces the uncomfortable prospect of joining the ranks of the uninsured, compounding the strain of being unemployed.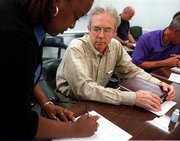 "The future is uncertain right now," Magner said. "I really don't know what I'm going to do."
He's not alone. Workers who have been laid off as the economy slows down are discovering another grim fact: finding affordable, comprehensive health insurance can be a daunting task.
Companies that have slashed jobs have cushioned the blow with severance packages that extended health benefits for several months. Others, such as Midway Airlines, dropped medical coverage immediately.
Most laid-off workers are offered coverage through COBRA, the federal law that allows terminated workers to continue their health benefits at their own expense for up to 18 months.
The only problem: Often that coverage is expensive, driving consumers to buy individual policies. That's when many of them learn that such policies are less generous with benefits, harder to get and often unaffordable.
COBRA, which stands for the law's ominous-sounding Omnibus Benefits Reconciliation Act, isn't an option for Magner. His former employer declared bankruptcy and in July announced it would cease operations. The COBRA law applies only when the employer stays in business and continues to offer group health benefits.
At 62, Magner is three years too young to be eligible for Medicare, the federal health insurance program for the elderly and disabled. He might try to purchase an individual health insurance policy, but says he fears his age and the fact that he takes several prescription drugs will make coverage too pricey. Worse still, he could be rejected for coverage as "medically uninsurable."
A federal law that guarantees health-insurance coverage for people who exhaust or can't get COBRA might be Magner's best bet for getting coverage, but such coverage would come at great expense. That's because the law requires insurers to provide coverage, but doesn't limit what the companies can charge. Average monthly premiums for such policies can run more than $600 a month, according to the Department of Insurance.
That's hardly affordable, Magner says, when he and his wife, Janice, are getting by on $375 a week in temporary unemployment benefits. He may have to take the guaranteed plan, or he may do without insurance pay cash for the care he needs, and pray that nothing serious goes wrong.
Magner's wife is disabled and has health insurance through Medicare. She has no prescription insurance, though, and said she spends between $250 and $300 a month on six medications.
Copyright 2018 The Lawrence Journal-World. All rights reserved. This material may not be published, broadcast, rewritten or redistributed. We strive to uphold our values for every story published.