The state's first Democrats used to meet here in a quaint limestone building overlooking the Kansas River.
Sunday afternoon, present-day Kansas Democrats rubbed elbows with their counterparts from Kansas' turbulent territorial period during a fund-raiser at the restored Democratic Headquarters.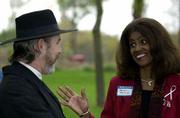 Historic re-enactors in period costume portrayed men on both sides of the fiery debate between pro- and anti-slavery factions as well as Ely Moore Jr., who organized and chaired in Douglas County the first Democratic Central Committee and Democratic Club in Kansas.
"It was good to learn a little about the founding of the Democratic Party," said Kansas House Minority Leader Jim Garner, D-Coffeyville. "We're trying to showcase some of the rich treasures we have in Kansas.
"We're celebrating a little history of Kansas and hoping to make more history by electing a Democratic governor next year."
Tim Rues, curator of Lecompton's Constitution Hall State Historic Site, said Sunday's fund-raiser was the first event to be held at the restored building.
"This is kind of our inaugural event," he said. "I think it's appropriate to have the Democratic Party of Kansas here."
About 35 people attended the fund-raiser, including State Rep. Barbara Ballard, D-Law-rence, and U.S. Rep. Dennis Moore, D-Kan.
Moore's been in town since Wednesday, when members of the House were evacuated from the U.S. Capitol because of the anthrax scare.
"I was one of the people who told the leadership I thought we should stay there," he said. "I didn't think it looked good having us leave before Friday."
Moore planned to sit in on a 6 p.m. conference call Sunday to get an update on how things were going in Washington and said he would return Tuesday morning.
While in Kansas this week, he visited several schools and talked to students about the Sept. 11 tragedy.
"Some of them are very concerned," he said.
He said Sunday's friendly gathering of party supporters set against the backdrop of Lawrence musicians playing territorial-period music on a pristine autumn day next to the Kaw River was a welcome reprieve from the drama surrounding the terrorist attacks.
Copyright 2018 The Lawrence Journal-World. All rights reserved. This material may not be published, broadcast, rewritten or redistributed. We strive to uphold our values for every story published.