When U.S. Army Rangers launched raids in Afghanistan, most likely Green Berets were already there scouting the target.
And former Green Beret Mark Johnson knows what that's like.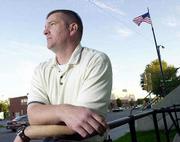 "It's 98 percent boredom and 2 percent total fear," said Johnson, a retired lieutenant colonel who fought in the Persian Gulf War and now lives in Eudora. "There's always the fear of being compromised."
Johnson retired from the military a year ago. He said he was involved in special operations in Iraq during the Gulf War. The missions involved hunting SCUD missile launchers and watching for troop movements.
Some of the time he was hiding in a well-camouflaged hole in the desert, just looking out.
"You're watching for anything that moves, and you won't see anything for hours," Johnson said. "You stay awake for hours, and you might catnap for 20 minutes while standing up."
Johnson said he thinks there have been Green Berets in Afghanistan and possibly other types of special forces units the past few weeks, even though the American public isn't hearing about them. The commandos are watching for Osama bin Laden and movements of the country's ruling Taliban forces.
Green Berets, he said, also are probably working with the Northern Alliance forces, who have had an ongoing war with the Taliban for control of Afghanistan. One of the jobs of the Green Berets is to advise and train military forces of allied countries.
When the ground war began in Iraq, Johnson was advising the Egyptian Army. He earned the Bronze Star for rescuing wounded Egyptian soldiers trapped in a minefield.
Johnson said he thinks eventually bin Laden will be found and probably killed.
"I don't think he's going to just lie down and give himself up," he said.
Johnson thinks bin Laden is still in Afghanistan.
"There aren't too many places that are going to take him now," said Johnson, who after the Gulf War was sent to advise military forces fighting anti-government guerrillas in African and Asian countries.
"He might be able to go to Somalia or Libya," Johnson said. "But I think he's hiding in a cave somewhere in Afghanistan. His communications have been cut off. He can't do anything right now."
Americans can expect to hear about more raids such as the one Rangers conducted Friday on an Afghan air base, Johnson said. Green Berets, Delta Force commandos and other special forces units also will participate, he said.
"It will be these packages that will go into Afghanistan and fight," Johnson said. "There will be casualties, and the American public has to be prepared for that. It's not going to be like Iraq."
Equipment such as night-vision goggles have improved in the 10 years since the Gulf War, Johnson said. The captains he served with in the Gulf are now colonels in Afghanistan.
"The younger guys, I think they may be better than we were," Johnson said.
Johnson retired from the Army a year ago after heading the Military Science Department at Pittsburg State University. Now he gives motivational speeches. He is a 1976 graduate of Lawrence High School.
Copyright 2018 The Lawrence Journal-World. All rights reserved. This material may not be published, broadcast, rewritten or redistributed. We strive to uphold our values for every story published.